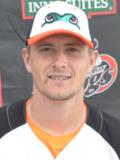 GREEN BAY, Wis. (July 9, 2012) – Green Bay Bullfrogs starting pitcher Bryce Bellin (Minnesota State) earned the honor of Northwoods League Pitcher of the Night for Monday, July 9.
Bellin threw six shutout innings and allowed just one hit. He also struck out nine Madison batters. He moves to 3-2 on the season with a 1.35 ERA.
The Bullfrogs won the game 4-0. Green Bay will host the Mallards again on Tuesday at 7:05 p.m.