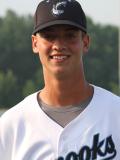 WAUSAU, Wis. (July 10, 2012) – Lakeshore Chinooks starting pitcher Jason Hoppe (Minnesota State) earned the honor of Northwoods League Pitcher of the Night for Tuesday, July 10.
Hoppe threw 7.2 innings of excellent baseball. He would allow just one run on four hits and walk just one batter. He also struck out 12 Wisconsin batters. Unfortunately, the Chinooks were unable to give any run support and Hoppe picked up his second loss of the season.
The Woodchucks won the game 1-0. Lakeshore will host the Green Bay Bullfrogs on Wednesday at 6:35 p.m.