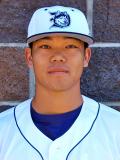 ALEXANDRIA, Minn. (July 11, 2012) – Duluth Huskies catcher Connor Joe (San Diego) earned Northwoods League Player of the Night for Wednesday, July 11.
Joe was 2-for-4 at the dish with five RBI and three runs scored. The Huskies put up 11 runs in the top of the fifth and Joe had a solo home run and a grand slam in that inning to lead Duluth.
The Huskies won the game 20-18. Alexandria will host Duluth on Thursday beginning at 7:05 p.m.