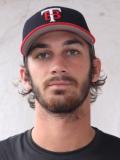 WATERLOO, Iowa (July 12, 2012) – Thunder Bay Border Cats starting pitcher James Buckelew (Belmont) earned the honor of Northwoods League Pitcher of the Night for Thursday, July 12.
Buckelew earned his first win of the season on Thursday after throwing seven innings and allowing just one run. He also allowed five hits and struck out three batters.
The Border Cats won the game 15-1. Waterloo will host the Border Cats on Friday at 6:35 p.m.