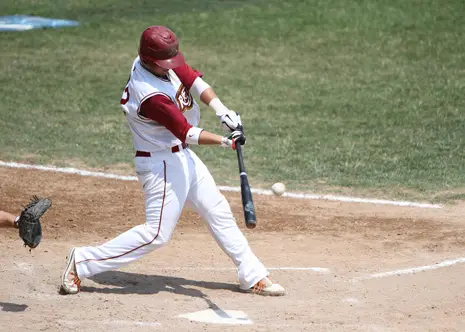 ROCHESTER, Minn. (July 12, 2012) – Offense continued to be a story around the league on Thursday.
Two players were perfect at the plate in the Northwoods League on Thursday and one of those players drove in over half of his team's 15 runs.
Duluth 5, Alexandria 15
Ben Moore (Alabama) had an outstanding night as he went 5-for-5 at the plate with eight RBI and four runs scored. He also tallied his eighth and ninth home runs of the season. The Huskies will host the Beetles on Friday for a 7:05 p.m. start.
Rochester 5, Mankato 6 (11 innings)
Luis Munoz (Oklahoma City) hit a deep fly ball to center field for a walk-off single in the bottom of the 11th inning. The Honkers will host the St. Cloud Rox on Friday at 7:05 p.m. and the MoonDogs will host the Stingers at 7:05 p.m.
Thunder Bay 15, Waterloo 1
Thunder Bay was led at the plate by Adam Landecker (USC) who was 6-for-6 with five RBI and three runs scored. On the mound, James Buckelew (Belmont) threw seven innings, allowed one run and struck out three. Waterloo will host the Border Cats again on Friday at 6:35 p.m.
St. Cloud 2, Willmar 5
The Stingers were led by Jerad McCrummen (Texas Tech) who threw seven innings and allowed just one run and struck out three.
La Crosse 5, Wisconsin Rapids 3
Bobby Juan (Minnesota) hit a home run for the third night in a row and went 3-for-4 at the plate for the Loggers. The Loggers will travel to take on the Wisconsin Woodchucks at 6:35 p.m. on Friday, while the Rafters will travel to Madison to play the Mallards at 7:05 p.m.
Wisconsin 10, Eau Claire 3
Eric Filia-Synder was 2-for-5 for the Woodchucks with four RBI and a run scored. Eau Claire will travel to play the Lakeshore Chinooks on Friday for a 7:05 p.m. start.
Green Bay 15, Lakeshore 6
Green Bay was led by the bat of Justin Seager (Charlotte) who was 2-for-4 with five RBI in their win. The Bullfrogs will travel to Battle Creek to face the Bombers at 7:05 p.m. ET on Friday.
Madison 3, Battle Creek 2
Luis Munoz's (Coffeyville College) RBI single in the top of the tenth would be the difference in this game. He would finish 3-for