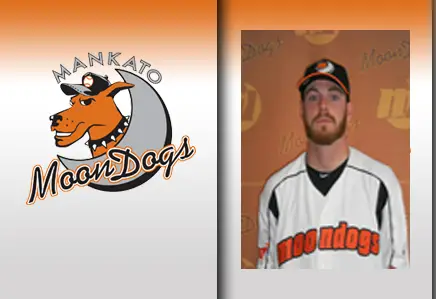 MANKATO, Minn. (July 16, 2012) – The Mankato MoonDogs announced on Monday that pitcher Zach Hall (Parkland College) has been shut down for the rest of the summer and will be unable to participate in the 2012 Northwoods League All-Star Game. He will be replaced by Mankato's Patrick Goelz (Oklahoma City).
Goelz is a junior from Palm Bay, Fla. and has pitched in 16 games for the MoonDogs this season. In his 16 innings pitched for the MoonDogs this season, Goelz has struck out 14 batters and earned a 3.94 ERA on the season. He also currently leads the Northwoods League in saves with 13.
The 2012 Northwoods League All-Star Game festivities kick off on Monday, July 23rd, the day before the game. At 6 pm it's the NWL All-Star Steak and Lobster Dinner featuring Guest Speaker, Milwaukee Brewers President of Operations and General Manager Doug Melvin. On Tuesday, July 24th, fans can come out to the park before the game for the Northwoods League Home Run Derby, which begins at 6 pm at "The Duck Pond", preceding the 7:35 pm first pitch for the 18th annual NWL All-Star Game.
The Northwoods League has more teams, plays more games, and draws more fans than any Summer Collegiate Baseball League in North America.
2012 Northwoods League All-Star Rosters:
http://www.northwoodsleague.com/pdf/2012NorthwoodsLeagueAllStars.pdf