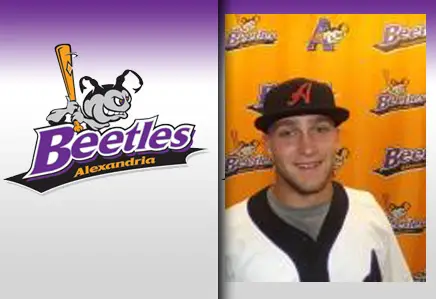 MADISON, Wis. (July 19, 2012) — Alexandria Beetles outfielder Jimmy Pickens (Michigan State) has been named to the North Division All-Star team for 2012 following an injury to Duluth's Luke Campbell who will be unable to participate.
Pickens, a native of West Bloomfield, Mich., is currently fourth in the league in hitting with a batting average of .372. He also has put up four home runs, 19 RBI and 15 stolen bases on the year to date.
The 2012 Northwoods League All-Star Game festivities kick off on Monday, July 23, the day before the game. At 6 pm it's the NWL All-Star Steak and Lobster Dinner featuring Guest Speaker, Milwaukee Brewers President of Operations and General Manager Doug Melvin. On Tuesday, July 24, fans can come out to the park before the game for the Northwoods League Home Run Derby, which begins at 6 pm at "The Duck Pond", preceding the 7:35 pm first pitch for the 18th annual NWL All-Star Game.
The Northwoods League has more teams, plays more games, and draws more fans than any Summer Collegiate Baseball League in North America.
2012 Northwoods League All-Star Rosters:
http://www.northwoodsleague.com/pdf/2012NorthwoodsLeagueAllStars.pdf