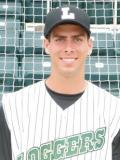 LA CROSSE, Wis. (July 20, 2012) – La Crosse Loggers starting pitcher Alex Gunn (Hinds CC) earned the honor of Northwoods League Pitcher of the Night for Friday, July 20.
Gunn threw a complete game for the Loggers and allowed just one run on seven hits. He also struck out seven and walked just one. He is now 5-3 on the season with a 3.66 ERA.
The Loggers won the game 9-1. The Loggers will be host the Rafters again on Saturday for a 6:05 p.m. start.