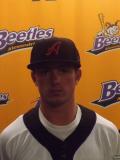 ALEXANDRIA, Minn. (July 31, 2012) – Alexandria Beetles catcher Ben Moore (Alabama) earned Northwoods League Player of the Night for Tuesday, July 31.
Moore wenth 3-for-5 at the dish with three RBI and three runs scored. He broke the record for Runs Batted In for a single-season (68) as he picked up numbers 67, 68 and 69 on Tuesday.
He also connected for his 13th home run of the season. With the blast, Moore now holds sole possession of the Alexandria Beetles record for home runs in a single season passing World Series-champion Allen Craig who hit 12 in 2005.
The Beetles won the game 12-9. St. Cloud will host the Beetles on Wednesday for a 7:05 p.m. start.