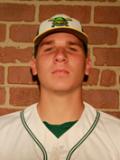 MADISON, Wis. (August 5, 2012) – Madison Mallards third baseman Nick Howard (Virginia) earned Northwoods League Player of the Night for Sunday, August 5.
Howard was near perfect at the dish as he went 4-fo-5 with three RBI and two runs scored. Howard tallied his 12th double and sixth home run of the season. He also now has 27 RBI on the year.
The Chinooks won the game 8-7. Madison will host the Chinooks on Monday for a 7:05 p.m. start.