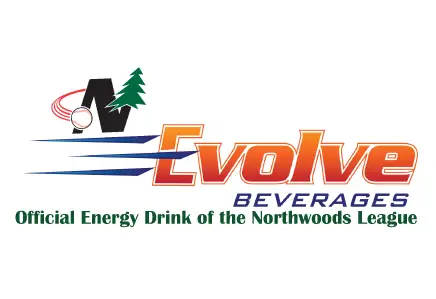 LAS VEGAS (August 9, 2012) – The Northwoods League and Evolve Beverages announced today that it has signed a sponsorship agreement thus making Evolve Beverages the official energy drink of the Northwoods League (NWL) for the 2012, 2013 and 2014 seasons.
"We are excited to be associated and to partner with Evolve Beverages in promoting their innovative product line," said Northwoods League President, Dick Radatz, Jr.
"Evolve Beverages is growing its brand as a premier supplemented beverage company that has developed a line of hydration and energy drinks. These drinks are made for the professional athlete as well as the weekend warrior and the soccer mom alike. By strategically partnering with the established Northwoods League, Evolve Beverages is positioning itself to become a leader in the Functional Sports Beverage industry. This partnership is the continuation of a well-designed marketing plan to reach the community driven sports markets, such as the Northwoods League teams" said Stephen Brown CEO of Evolve Beverages.
About Evolve Beverages
Evolve Beverages specializes in creating advanced energy and sports drinks that take you from good to great. The company produces beverages that offer performance, hydration, energy with a fresh, clean taste and cutting-edge ingredients. Evolve Beverages reaches out through community athletics and sports events, supporting people of all ages to embrace a healthy lifestyle.
Through a unique marketing and distribution platform, the beverages can be found in both rural and major city markets. Evolve Beverages sports drinks contain a signature blend of replenishing C and B-Vitamins, ConcenTrace® Ionic Trace Minerals, and D-Ribose which possesses an unparalleled ability to energize and enhance recovery, along with key electrolytes to restore and maintain proper hydration. To find out more visit www.evolvebeverages.com
About The Northwoods League
The Northwoods League is a summer baseball league comprised of teams of the top college players from across the nation and North America. The League features more teams, plays more games, and draws more fans than any other Summer Collegiate Baseball League in North America.
There are currently 16 teams in Wisconsin, Minnesota, Iowa, Michigan, and Ontario. Each team is operated similar to a professional minor league team, providing players an opportunity to play under the same conditions using wooden bats, minor league specification baseballs, experiencing overnight road trips, and playing nightly before fans in a stadium. 2012 marks the 19th season of Northwoods League Baseball. To find out more visitwww.northwoodsleague.com