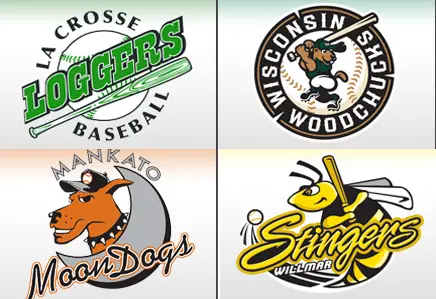 ROCHESTER, Minn. (Aug. 13, 2012) – The 2012 Northwoods League playoffs begin tonight as the winner from the first half of the season meets the winner of the second half of the season in each divisional playoff series.
In the North Divisional playoff series, the first half champion Mankato MoonDogs will meet the second half champion Willmar Stingers. Game one will take place at Bill Taunton Stadium in Willmar, Minn. at 7:05 p.m. tonight. Tanner Banks (Utah) will throw for the Stingers and Adam Mott (New Mexico State) will start for Mankato. Game two and game three (if necessary) will be held in Mankato, Minn. at Franklin Rogers Park.
The Stingers have been led this season by Michael Suchy (Florida Gulf Coast) who hit .349 with eight home runs and 62 RBI during the season. Kenny Roberts (Alabama) tied for the league lead in home runs with 16 on the season for Willmar. J.M. Twichell (UT-Arlington) has been a leader on the field for the MoonDogs in 2012, hitting .347 with eight home runs and 36 RBI.
This is the first time in Willmar franchise history the team has made the playoffs. They posted a 41-28 overall record. The MoonDogs ended the regular season with an overall record of 42-27, which ties a franchise record.
The South Division first half winners, the La Crosse Loggers, will square off with the Wisconsin Woodchucks. Game one will be held in Wausau, Wis. at Athletic Park at 6:35 p.m. this evening. The series then shifts to Copeland Park in La Crosse, Wis. Austin Pettibone (USCB) will get the start for the Woodchucks again La Crosse's Jake Stassi (Long Beach State).
The Woodchucks have been led on the mound by Jack Fischer (Wake Forest) who went 6-1 during the regular season with a 1.76 ERA. La Crosse has been led by Richard Prigatano (Long Beach State) who hit .316 with 11 home runs, 51 RBI and 21 stolen bases.
The Loggers finished the regular season with a 49-21 record, which is the second best overall record in league history. The Woodchucks finished the season with a 43-27 record.
The winner from each divisional playoff will play each other for the Northwoods League Championship in the Summer Collegiate World Series. Game one will be on Thursday, Aug. 16, and will be a best-of-three series.
The Northwoods League has more teams, plays more games, and draws more fans than any other Summer Collegiate Baseball League in North America. The League has 16 teams in Wisconsin, Minnesota, Iowa, Michigan, and Ontario.