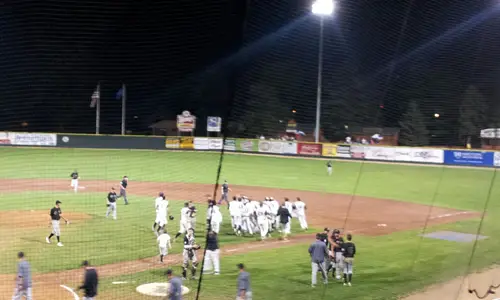 ROCHESTER, Minn. (August 14, 2012) – The Stingers were led by a dominating pitching performance to even up the North Divisional Series and send it to a third game and the Loggers mounted yet another impressive comeback.
Willmar Stingers 4, Mankato MoonDogs 0
The Stingers were led by the dominant pitching performance of Kody Gorden (Nevada). Gorden threw eight shutout innings for Willmar to force game three on Wednesday.
Gorden allowed no runs on six hits over those eight innings and struck out eight batters. Kenny Roberts (Alabama) was 2-for-3 at the plate with two RBI and a run scored for the Stingers.
The third and deciding game of the series will take place on Wednesday, with the winner advancing to the Summer Collegiate World Series. The game is scheduled for a 7:05 p.m. first pitch from Mankato.
Wisconsin Woodchucks 7, La Crosse Loggers 8
After going back-and-forth for the first three innings, the Woodchucks would add a run in the seventh, eighth and ninth innings to extend their lead to 7-4. That's when the Loggers would strike.
The Loggers drove in three runs in the bottom of the ninth to come from behind in the final inning for the second night in a row. The three runs would tie the game at seven and send it into extra innings. Jimmy Bosco (Arkansas) came up with bases loaded in the bottom of the 11th and ripped a walk-off RBI single to sent the Loggers to the Summer Collegiate World Series.
The Loggers will have to wait for Wednesday's North Divisional Series winner to know where they will play game one on Thursday.