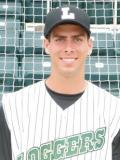 MANKATO, Minn. (August 16, 2012) – La Crosse Loggers starting pitcher Alex Gunn (Hinds CC) earned the honor of Northwoods League Pitcher of the Night for Thursday, August 16.
Gunn turned in a solid starting performance in order to help the Loggers take game one of the Summer Collegiate World Series. He threw 6.1 innings and allowed two runs on six hits and struck out three batters.
The Loggers won game one, 12-2. Game two of the 2012 Summer Collegiate World Series between the Mankato MoonDogs and La Crosse Loggers is Friday at 7:05 p.m. in La Crosse.