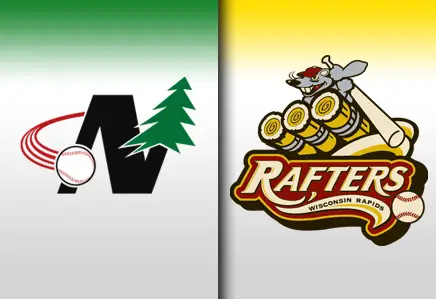 Wisconsin Rapids, WI – The Wisconsin Rapids Rafters announced that two pitchers from the 2012 team have signed contracts to return next summer. Right-handed pitcher Ronnie Muck (Illinois) will join local pitcher JP Feyereisen (UW-Stevens Point) on next year's roster.
RHP-Ronnie Muck, 6'0", 195 lbs (R/R) Junior, Illinois
Ronnie Muck will return for a second summer after appearing in 21 games for the Rafters in 2012. Performing mostly in a relief role, Muck posted a 3-2 record and 5.44 ERA while recording one save. In 39.2 innings pitched he struck out 34 batters while walking only 13.
Last season for the University of Illinois, Muck appeared in 23 games and posted 2-1 record with a 4.36 ERA. In 33 innings he struck out 32 batters and recorded three saves for the Illini.
Muck was named the No. 38 prospect in the state of Illinois by Prep Baseball Report, Pioneer Press North Stars Player of the Year, and Bugle Newspapers Male Athlete of the year as a senior for Maine South High School during his prep career. He was also an All-Area selection by the Chicago Sun-Times from 2008-2010 and was All-Central Suburban Conference pitcher in 2008 and 2009. Muck is a native of Park Ridge, Illinois, and will begin his junior season next spring.
RHP-JP Feyereisen, 6'3", 210 lbs (R/R) Sophomore, UW-Stevens Point
After losing some pitchers late in the 2012 season, the Rafters signed UW-Stevens Point freshman JP Feyereisen to help contribute some innings during the final month. Feyereisen was very impressive when called upon by manager Jake Martin, earning him an invitation to return to the team for the 2013 season.
In four outings during the Rafters final month, Feyereisen pitched 8.2 innings in relief and allowed only five hits, while striking out eight batters. His sparkling 3.11 ERA ranked him third on the team behind only former Rafters All-Stars Skyler Debilzen and Seth Fuller.
As a freshman for UW-Stevens Point last spring, Feyereisen appeared in 11 games, making eight starts. He posted a 3-0 record with a 2.66 ERA, striking out 37 batters in 40.2 innings on the mound.
Feyereisen was a four-time letter winner and First-Team All-Conference performer during his prep baseball career. He also helped guide his legion team to a State Championship where he was named Most Valuable Player. Feyereisen is a native of River Falls, Wisconsin.
The Wisconsin Rapids Rafters are members of the 16-team summer collegiate Northwoods League. Reserve your 2013 ticket packages today by calling 715-424-5400, or in person by stopping by the Rafters office at Witter Field. Available quantities of all promotional giveaways will vary from event to event and will be available on a first come, first serve basis. The best way to guarantee giveaway items is to purchase a 9-Game Package. The offseason office hours are Monday through Friday from 9am-4pm. For more information, visit www.raftersbaseball.com.