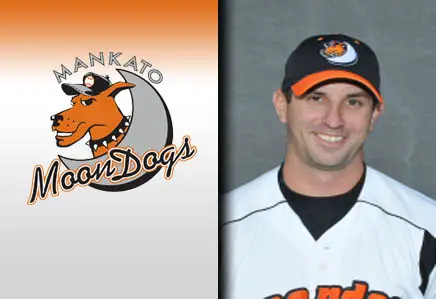 MANKATO, Minn.–The Mankato MoonDogs Baseball Club, a member of the Northwoods League, is thrilled to announce the return of Field Manager, Mike Orchard for the 2013 season.
Orchard, the pitching coach for Central Arizona College, will once again travel north to spend his fifth consecutive summer managing the MoonDogs in Mankato.
Just shy of a Summer Collegiate World Series Championship, losing to the La Crosse Loggers, Orchard will return with the same drive that has already earned him quite the success within the franchise.
"Mike is a huge asset to our organization and having him back for his fifth season gives us all the confidence in the world that both on and off the field the team is in great hands" said MoonDogs General Manager Kyle Mrozek.
He is the winningest manager in MoonDogs history with 152 wins. Orchard has led the dogs to the playoffs three of his four years and managed the NWL All-Star game for the third time. He boasts consecutive 42-win seasons, the most in MoonDogs single season history.
In the hype of accomplishments, Orchard still has that one base left to turnover.
"We've been really successful in the past, we've won the North Division the last two years. It's a long ways away and a long process, but I want to win it all," said Orchard.
To do so, the fifth year manager will look at the experience he has gained from prior seasons when planning for the 2013 summer.
"You tend to focus on what you didn't do well, which for us last year was pitching. The biggest aspect is our roster and staying on top of that roster. Improving that element for the 2013 season will be the starting point," said Orchard.
The 2013 season will start in late May. MoonDogs merchandise is on sale at the MoonDogs baseball office located at 1221 Caledonia Street. For more information visit, www.mankatomoondogs.com or call 507-625-7047.