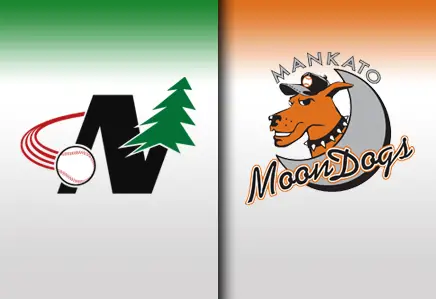 Mankato, Minn.–The Mankato MoonDogs, a member of the Northwoods League, is proud to announce the Mankato alumni who have continued to progress in the major leagues during the 2012 season.
Jack Hannahan (2000) finished his second season with the Cleveland Indians. In 105 games, Hannahan had 287 at bats with 70 hits and a batting average of .244. The St. Paul native hit four home runs and notched 29 RBI.
On July 19th, Cole De Vries (2004) made his first major league debut with Minnesota's own Twins. De Vries also a former Minnesota Golden Gopher, started 16 games, 10 with decision finishing 5-5 with a 4.11 ERA. De Vries racked up 58 strikeouts and gave up an opponent batting average of .252.
Curtis Granderson (2001) completed his third season in the New York Yankees pinstripes. With 596 at bats and 138 hits, he finished with a .232 batting average. Granderson also proved to be a powerful hitter with his second consecutive 40 HR, 100 RBI season with 43 home runs and 106 RBI. The Yankees have elected to exercise Granderson's option, keeping him in New York through 2013 but he has the option of becoming a key free agent in the 2014 offseason.
Brandon Crawford (2005) became the first MoonDog to win a world series in 2012. He was the starting short stop for the San Francisco Giants during their run through the playoffs. Brandon logged seven RBI and two extra base hits while batting eight during the Giants three playoff series.
The 2013 season will start in late May. MoonDogs merchandise is on sale at the MoonDogs baseball office located at 1221 Caledonia Street. For more information visit, www.mankatomoondogs.com or call 507-625-7047.