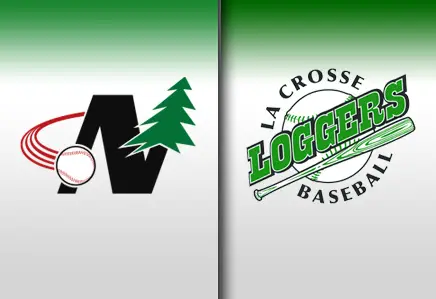 LA CROSSE, WI – The La Crosse Loggers baseball club added two more important pieces to their growing 2013 roster today when team officials announced the signings of infielders Brandon DeFazio (College of San Mateo) and Chris Woolley (San Diego).
Logger fans will remember Defazio, who spent the first 14 games of the 2012 season with the Lumbermen on a temporary contract. The slick-fielder infielder was a key part of the Loggers early season success last year as he hit .267 and was leading the team with 15 runs scored before his temporary contract came to an end.
The Pleasanton, Calif. native remained in the Northwoods League for the duration of that 2012 summer, as he was picked up by the Rochester Honkers and went on to hit .241 with three homers and 19 RBI's over 141 at-bats.
Defazio will be returning for his sophomore season to the College of San Mateo (Calif.) this spring after having a fantastic freshman campaign. Defazio hit .295 with three homers, 22 RBI's, ten stolen bases and led the team in at-bats with 156. He also walked (15 times) more than he struck out (12 times) last spring. Defazio has already committed to continue his collegiate career at the University of San Diego where he will enroll in the fall of 2013.
Defazio will get a head start on working with one of his future teammates this summer as the Loggers have also signed utility man Chris Woolley from USD. Woolley, who has the ability to play both infield and outfield, is set to embark on his junior season at San Diego after two successful seasons at the College of Western Nevada.
As a freshman in 2011, Woolley hit .366 with 33 RBI's in 50 games from his shortstop position and followed that up by hitting .302 last spring with seven stolen bases. Woolley is also somewhat of a veteran of summer collegiate baseball as he spent a portion of the 2011 summer season with the Willmar Stingers of the NWL and was a member of the Holyoke Blue Sox of the New England Collegiate League last summer. San Diego has already been ranked as high as #12 in one 2013 pre-season poll (Collegiate Baseball Newspaper).
Defazio, Woolley and the rest of the Loggers will open their 2013 season on the road when they travel to Battle Creek on May 29 to take on the Bombers. The 2013 home opener is set for Sunday, June 2 at the Lumberyard with a 5:05 p.m. first pitch already set. Season tickets are on sale now for the Loggers 35-game home schedule and single game tickets will go on sale April 1. Ticket and schedule information can be found at www.LaCrosseLoggers.com of by calling the Loggers ticket office at 608-796-9553.