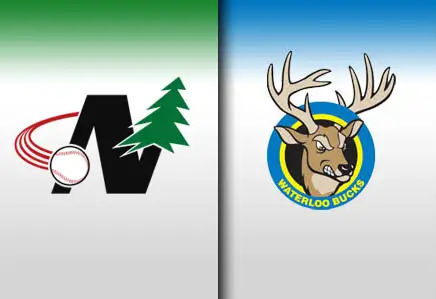 Waterloo, IA – With pitchers and catchers reporting to Spring Training camps this week, four former Waterloo Bucks will open camp on the big league squad. Clint Barmes, Ryan Goins, Dan Jennings, and Evan Reed all are scheduled to break camp on their respective Major League squads.
Former Waterloo infielder Clint Barmes enters his second season with the Pittsburgh Pirates, and 11th season in the big leagues overall. Barmes begins the spring as Pittsburgh's starting shortstop after hitting .229 in 144 games in 2012. For his major league career, the Vincennes, Indiana native is hitting .249 with 81 home runs, 369 RBI, and 42 stolen bases in 932 games.
The Indiana State University product played for the Bucks in 1999 and 2000. In a stellar '99 season, Barmes finished with 48 runs, 16 doubles, nine home runs, 52 RBI, and 27 stolen bases. For a career with Waterloo, Barmes hit .263 with 11 home runs and 56 RBI.
Ryan Goins breaks camp with the Toronto Blue Jays as a member of the team's 40-Man roster. During the off-season, Goins was named an organizational All-Star as a shortstop for the Toronto Blue Jays. The Dallas Baptist University product hit .289 with 15 stolen bases, playing all season for Toronto's Double-A affiliate, the New Hampshire Fisher Cats of the Eastern League in 2012. Goins finished with a .403 slugging percentage and committed only 16 errors in 136 games. On November 20, Goins was named to the Blue Jays' 40-Man Roster. Goins was recently named Toronto's 18th best prospect by MLB.com.
A native of Round Rock, Texas, Goins was drafted in the fourth round of the 2009 MLB Draft by Toronto. Goins led Waterloo with a .318 batting average and a team high 12 doubles in 2008.
Former Bucks left-handed pitcher Dan Jennings enters big league camp with the Miami Marlins after making his MLB debut on April 20, 2012. The West Des Moines, Iowa native finished the year on Miami's roster, appearing in 22 games with a 1-0 record, a 1.89 ERA, and eight strikeouts in 19 innings.
Jennings, who played with Waterloo in 2006 and 2007, was drafted by the Marlins in the ninth round of the 2008 MLB Amateur Entry Draft. A University of Nebraska product, Jennings appeared in 33 games for the Bucks in his two seasons with Waterloo, which is tied for the 10th most on the Bucks' career list. With Waterloo, Jennings owns a career 6-7 record with a 2.59 ERA (seventh best for a career in the Bucks' record books) and 99 strikeouts in 125.1 innings pitched. His 15 games started and three complete games both rank in the top 10 for a career with Waterloo. In his final season with the Bucks, Jennings finished the season with a 2.01 ERA, which is tied for the seventh best mark in a single season for Waterloo.
Right-handed pitcher Evan Reed joins Jennings in the Marlins' camp in Jupiter, Florida. Reed was drafted in the third round of the 2007 MLB Amateur Entry Draft by the Texas Rangers, and played in the Rangers' organization until he was traded from Texas along with Omar Poveda to Florida in exchange for Jorge Cantu in July of 2010. In six years of minor league baseball, Reed has appeared in 184 games and owns a 19-19 record, a 4.09 ERA, and 334 strikeouts with 44 saves.
Originally from San Luis Obispo, California, Reed played for Waterloo in 2005. In 17 games, the Cal Poly-SLO product threw 26.2 innings with 24 strikeouts, a 0-1 record, and a 7.09 ERA.
The Bucks will open the 2013 season at home versus the St. Cloud Rox on May 29. Season tickets, group outings, and single-game tickets are currently on sale. For more information, call the Bucks' Ticket Line at (319) 232-5633. Fans are encouraged to stay in touch with the Bucks in the off-season by utilizing their website at www.waterloobucks.com .