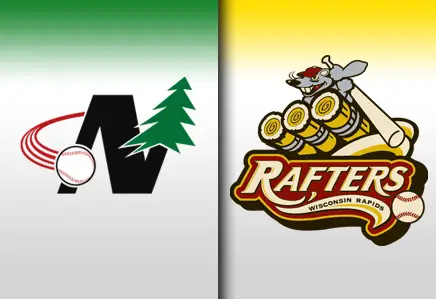 Freshman Outfielder Brinson a former Mississippi Class 6A Player of the Year
Wisconsin Rapids, WI-Tuesday, April 9. The Rafters announced the signings of three players from Northwestern State University of the Southland Conference today. Freshman outfielder Cort Brinson will join junior right-handed pitcher Robert Baker and left-handed pitcher Joey Parrack in Wisconsin Rapids this summer.
OF-Cort Brinson, 6'0", 200 lbs (R/R) Freshman, Northwestern State
Cort Brinson has made a direct impact on his team during his freshman season at Northwestern State. In 32 games (28 starts) batting mostly in the cleanup spot in the batting order, Brinson has posted a .227 batting average with a team leading 8 doubles and two home runs. He has also scored 14 runs while ranking second on the team with 12 RBIs.

Brinson came to Northwestern State after being named the Mississippi Class 6A Player of the Year last spring. He helped lead Hattiesburg's Oak Grove High School to a state championship and a No. 2 national ranking his senior year after batting .461 with eight home runs and 47 RBIs. He also posted a .814 slugging percentage and a .562 on-base percentage, leading one of the best high school baseball programs in the nation to a 34-3 overall record. Brinson was also the South team's Most Valuable Player at the Mississippi Crossroads All-Star Game and made the Jackson Clarion-Ledger newspaper's Dandy Dozen list of prospects for 2012.

He repeated as a first-team All-State selection his senior season after earning the recognition his junior year in which he batted .483 with five home runs and 43 RBIs. As a junior he was a first-team All-Area utility player, the District 8 Player of the Year, won a Baseball Factory Louisville Slugger Hitting Award, and was named Oak Grove's best offensive player. He was included on the Mississippi Hardball Top 15 Players in the State list, and chosen for the State Games of Mississippi in 2010 and 2011. He was also a four-year starter and the first freshman to start in that high school program in the last 15 years. Oak Grove reached the state playoffs in all four of Brinson's seasons.

Brinson was also an ESPN.com All-State choice in 2012 and stood out at the Power Showcase in Phoenix, posting the second-fastest 60-yard dash time among 80 participants and being the only one who hit an opposite field home run.

Brinson, who has been clocked at 4.6 in the 40-yard dash and 6.6 in the 60, was also the Most Valuable Player for Oak Grove High School's football team as a starting linebacker. He was voted the "Most Athletic" player at Oak Grove and was a PineBeltSports.com All-Area first-team linebacker, later earning state MVP honors from that website in baseball. He is a native of Hattiesburg, Mississippi.
RHP-Robert Baker, 6'2", 190 lbs (R/R) Junior, Northwestern State

After his complete game, two-hit shutout last Friday (April 5th) against Central Arkansas, Baker was named Louisiana Sports Writer's Association Pitcher of the Week it was announced Monday. Baker allowed four walks and struck out nine Bears on his way to a 1-0 victory in that ballgame. The two hits he allowed were both singles and he retired ten batters in a row at one point in the outing.
Baker has been a consistent contributor to the Demons staff this spring after transferring from Cisco Junior College. He has started eight games this spring, posting a 3-3 record with a 3.23 earned run average and tossing two complete games. In 53 innings he has recorded 33 strikeouts while holding opponent batters to a .249 average.
While at Cisco Junior College, Baker posted a 3.85 ERA as a freshman and a 1-2 record with five saves and 3.22 ERA as a sophomore. He also made a World Series appearance for Cisco Junior College during his time there.
Baker attended Lakeview High School in Garland, Texas where he posted a 1.12 ERA in 56 innings during his sophomore and junior seasons, earning him first and second team All-District honors respectively. He is a native of Garland, Texas.
LHP-Joey Parrack, 6'5", 200 lbs (L/L) Junior, Northwestern State

Parrack has appeared in seven games for the Demons this spring, tossing 19.1 innings while recording 22 strikeouts. The southpaw is in his first season at Northwestern State after pitching two seasons at Fort Scott Community College in Kansas where he finished with an 8-1 record, 1.83 earned run average, 67 innings pitched and 58 strikeouts. He was also named a second team All-Conference selection for his accomplishments.

Parrack is no stranger to summer collegiate baseball, having played in the MINK League last summer as a member of the Nevada Griffons. In eight starts, spanning 45.2 innings, Parrack struck out 30 batters and posted a 3.54 ERA.

Parrack attended high school at Shawnee Mission West and lettered three years in baseball. He was voted a second-team All-Conference pitcher twice, including his senior year when he finished with a 4-1 record and a 0.98 ERA. He also played for Team Under Armor and the 17 and under USA team in high school. He is a native of Overland Park, Kansas.

The Wisconsin Rapids Rafters are members of the 16-team summer collegiate Northwoods League.

The Northwoods League has more teams, plays more games, and draws more fans than any other Summer Collegiate League in North America. In 2013 the Northwoods League will celebrate its 20th season. Opening Day at historic Witter Field is scheduled for Wednesday, May 29th at 7:05 pm against the Lakeshore Chinooks.

Reserve your 2013 ticket packages today by calling 715-424-5400, or in person by stopping by the Rafters office at Witter Field. Available quantities of all promotional giveaways will vary from event to event and will be available on a first come, first serve basis. The best way to guarantee giveaway items is to purchase a 9-Game Package. The offseason office hours are Monday through Friday from 9am-5pm. For more information, visit www.raftersbaseball.com.