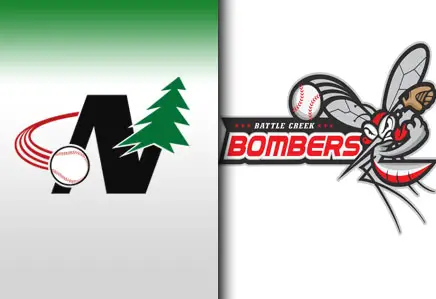 BATTLE CREEK, MI- The Battle Creek Bombers have announced the signings of Eastern Michigan pitchers Ben Dartnell and Ryan Lavoie.
Ben Dartnell: 6'3" – 215lb, B/L-T/L, LHP, Eastern Michigan (So.), East St. Paul, Manitoba, Canada
Ryan Lavoie (Right): 6'2" – 215lb, B/R-T/R, RHP, Eastern Michigan (So.), Sterling Heights, Mich.
Dartnell and Lavoie joining the Bombers make Eastern Michigan the seventh school in Michigan to be represented by the team. As a freshman in 2012, Dartnell made 20 relief appearances, holding opposing hitters to a .234 batting average over 20 innings.
A graduate of Vauxhall High School, Dartnell received the Comeback Player of the Year award in his senior season after sitting out his junior year with an injury. In the 2011 first year player draft, the lefty was selected by the Boston Red Sox in the 34th round but opted for Eastern Michigan.
Lavoie threw just over 46 innings as a freshman in 2012 ranking fifth among all Eastern Michigan pitchers. In April of 2012, he earned a MAC West Pitcher of the Week after striking out 11 in an outing against Western Michigan on his way to a 4-3 record on the season.
As a junior at Stevenson High School, Lavoie posted a 6-2 record with a 4.11 ERA in 48 innings. He earned multiple honors as a senior including the Macomb County Player of the Year and first team All-State. The righty started the MHSBCA All-Star game after going 12-1 with a 0.94 ERA and 107 strikeouts in 89.1 innings.
The Battle Creek Bombers are members of the Northwoods League that has more teams, plays more games, and draws more fans than any other summer collegiate baseball league in America. The team opens up its 7th season in Battle Creek on Wednesday, May 29th. For information on tickets call (269) 962-0735 or visit BattleCreekBombers.com.