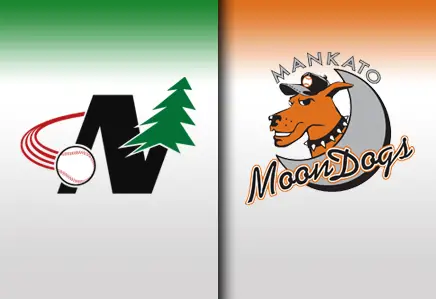 MANKATO, Minn. — The Mankato MoonDogs Baseball Club, a member of the Northwoods League, is pleased to announce the commitment of pitchers Cody Hamlin, Paul Mittura and Jon Perrin for the 2013 MoonDogs season.
Hamlin, a 6-foot-3-inch, 187-pound freshman from Western Nevada is playing in his first season with the Wildcats after redshirting in 2012. Through eight starts this spring Hamlin is leading the team with a 5-1 record, while also posting a team best, 1.38 ERA and 46 strikeouts.
"Cody is coming to us this summer from a great Junior College," said MoonDogs Field Manager Mike Orchard. "He has a big strike zone and knows how to utilize his defense in order to get us a lot of outs."
Mittura, a 6-foot-2-inch, 205-pound junior from Middle Tennessee State is in his 3rd year with the Blue Raiders. As a sophomore in 2012, Mittura posted a 4-1 record while leading the team with a 1.92 ERA. In 16.2 innings of work so far this spring, the Clarksville, Tenn. native is also leading the team with a 1.62 ERA, while striking out 14 batters and collecting six saves.
"Paul is a back end reliever who has shown the ability to pitch in tight situations," said Orchard. "He should see a lot of appearances for us this summer late in the games and shutting them down to get the save."
Perrin, a 6-foot-4-inch, 198-pound sophomore from Oklahoma State University saw limited action in his freshman campaign with the Cowboys, appearing in 6.2 innings while striking out six batters. In his second year, Perrin has taken the mound more this spring appearing in 23.1 innings thus far, while striking out 21 and is tied for second on the team with three wins.
"Jon comes from a good baseball program in Oklahoma State, playing under some great coaches," said Orchard. "He has a good combination of pitches and should be one of our top rotation guys this summer for the MoonDogs."
The MoonDogs home opener is scheduled for Wednesday, May 29th at 7:05 p.m. against the Rochester Honkers at Franklin Rogers Park. Season tickets are now on sale at the MoonDogs office located at 1221 Caledonia Street. For more information, visit our website www.mankatomoondogs.com or call the MoonDogs office at 507-625-7047.