St. Cloud Rox Post Another Five to 2013 Roste
April 22, 2013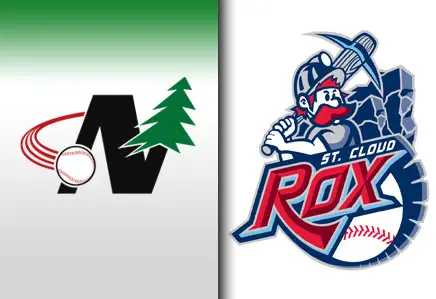 St. Cloud, Minn. – The St. Cloud Rox announced the signing of five players to the 2013 roster. Freshman Dalton Sawyer (University of Minnesota Gophers), sophomore returner Chris Paul (University of California Golden Bears), sophomore David Yakopec (University of Pittsburgh Panthers), freshman Kyle Murray (California State University, Fullerton Titans), and sophomore Clay Williamson (California State University, Fullerton Titans), have all signed for the Rox this summer.
Sawyer, a 6'4" 195 pound left-handed pitcher is just starting his collegiate career with Minnesota this season before coming to St. Cloud for the summer. So far this season with the Gophers Sawyer has seen action in 11 games, posting 23 strikeouts in 24 innings pitched. Sawyer played at Waconia High School and was a Lions All-Star member. He earned All-Conference selection in 2012 and honorable mention in 2011. His season best statistics include a 1.03 earned run average, 77 strikeouts in 44 innings pitched. Sawyer was a member of the Minnesota Blizzard travel team and went 5-1 in 25.1 innings pitched and struck out 44 to hold a 1.08 ERA in 2011 as the team went 28-5 and 7-3 in the league.
Paul, a 6'3" 200 pound infielder is deep into his sophomore season with the Golden Bears and will be no newcomer to the Rox this summer. Last summer, Paul appeared in 63 games for the Rox earning 26 RBIs and led the Rox in at-bats (251), 2B (20), and 3B (6). He was also second on the team in runs (41), hits (68), and stolen bases (13). Paul was also at the top of the stats in the Northwoods League tied for second in double (20) and triples (6) and in the top-10 for at-bats (251).

So far this season at California Paul has appeared and started in all 34 games posting 27 hits, including five doubles and five home runs with 26 RBI and a .906 fielding. As a freshman Paul batted a .239 (went 21-for-88, .241 against the Pac-12 teams) with six doubles, a home run and 15 RBI
. He had an eight-game hitting streak from April 13-27 (11-for-29, .379, 2-2B, 6 RBI)
. In high school he was named the Orange Coast League MVP as a sophomore and a member of the 2011 California All-Region second team
.
Yakopec, a 6'3" 200 pound left-handed pitcher and outfielder is in his second year with Panthers. Yakopec finished his freshman campaign with a 4.05 ERA, pitching in seven relief appearances and one game as a starter. He struck out nine batters and allowed no extra-base hits in 13.1 innings of work. He played on the Orioles Scout Team and the Mid-Atlantic Canes. In high school he was a three-sport athlete and a varsity letter winner. He was named Athlete of the Year at Burrell High School in 2011 and was named ESPN Rise Magazine All-State as a senior. He was also named to the PA Nine All-State as a senior and selected to the Pittsburgh Post Gazette First Team. Made the All-WPIAL Team in both his junior and senior seasons. Won the Judge Driscoll Student-Athlete Award.
Murray, a 6'1" 195 pound right-handed pitcher is just starting his collegiate career this season with the Titans before coming to St. Cloud for the summer. Cal State Fullerton holds a 31-5 record and have been ranked consistently in the top ten in division 1 baseball. Kyle has appeared in five games recording one victory and 5.2 innings pitched so far as a rookie. A 2012 graduate of Crescenta Valley High School, Murray was a two-time all-area first team pick and finished his senior season with a 6-4 record, 1.83 ERA and 70 strikeouts. As a senior Murray was named the Pacific League Co-Player of the Year. As a junior in 2011, he finished the year 5-2 with a 1.50 ERA, 73 strikeouts and second team all-league honors.
Williamson, a 6'1" 195 pound outfielder is in his sophomore season with the Titans. He has appeared in 22 games so far this season recording 17 putouts and a 1.000 fielding percentage. During the summer last year Williamson hit .299 for the Neptune Beach Pearl with 25 hits, 28 runs scored, four doubles, four triples, 18 RBIs and nine stolen bases. As a freshman with the Titans Williamson saw limited but productive action as he appeared in 19 games and started 5 (4 in right field and 1 as designated hitter). He batted .229 in 35 at bats with 9 RBI, which were eighth on the team. Williamson's biggest hit was a 2-run pinch-hit eighth-inning single that turned a 4-3 deficit into a 5-4 win over UC Davis. He was 2-for-3 with the bases loaded his freshman season. In high school Williamson was a three-year letterman and was a three-time All-Trinity League honoree, earning first-team recognition as a junior and senior. He hit .300, .400 and .390 in his three seasons with the Lions and finished with 54 RBI and 43 stolen bases in his career.
The 2013 Rox roster will be compiled of 30 players from across the country competing in the top-rated Northwoods League as it celebrates its 20th anniversary in 2013. Some notable Northwoods League alumni are: Curtis Granderson (Yankees), Josh Willingham (Twins) Andre Ethier (Dodgers), Jordan Zimmerman (Nationals) and Ben Zobrist (Rays).

The Rox home opener is set for May 31 against the Thunder Bay Border Cats. The first pitch is slated for 7:05 p.m. with an amazing postgame firework show presented by Coborn's. For additional information call the Rox office at (320) 240-9798 or on the web at www.stcloudrox.com.