Bombers finalize coaching staff
April 24, 2013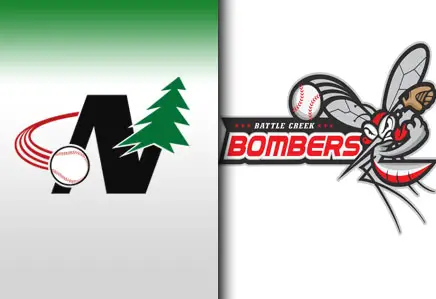 BATTLE CREEK, MI- Finalizing the coaching staff for the Bombers this year are Robbie Robinson (left) and Joe Oliveira (right). Both come with extensive knowledge of the game from years of playing and now experience coaching.
Robinson has moved into the role of graduate manager for the 2013 season with Missouri State University after working with the Bears' staff as a student assistant during the fall campaign. Robinson has been assisting with the day-to-day operations of the Bears' program, relying on his experience as a standout Division I catcher at Valparaiso. An All-Horizon League performer as a two-year letter winner for the Crusaders, the Brea, Calif., native batted .309 over 99 career games with VU. Robinson, who competed his first two collegiate seasons at Irvine (Calif.) Valley College, earned a spot on the Horizon League All-Newcomer team, as well as all-tourney recognition at the conference championship in 2010. He was also named a Northwoods League All-Star in the summer of 2010 with the Mankato Moondogs, and then wrapped up his career with a second-team all-league citation the following spring.
Robinson graduated with his bachelor's degree in communications from Valpo in 2011, and is currently working toward a master's degree in sports management at MSU. In addition to his role with the Bears, Robinson serves as bullpen catcher for the Double-A Springfield Cardinals who won the Texas League championship in 2012.
Oliveira was born and raised in San Diego, CA and was a two time all-CIF selection at University City High School. He then accepted a scholarship to the University of the Pacific out of high school. Oliveira played there for 11 year MLB veteran Ed Sprague Jr. He was a 3 time All-Big West Conference selection at Pacific and the team captain for 3 seasons. Named to the Johnny Bench Award watch list (awarded to the top catcher in the country) 3 years in a row. He was named the 9th best catcher in the country by rivals.com before his junior season. He then turned down an offer in the draft after his junior season to come back and graduate with a degree in communication.

After getting hurt his senior year with labrum surgery he redshirted and came back for a 5th year. Which allowed him to attend graduate school and finish his masters degree in education. In his last year he hit .332 with 5 home runs and 24 stolen bases. After getting drafted in the 15th round in 2010 by the Baltimore Orioles, he played 3 seasons in the minor leagues. He hit .308 in high A Frederick in 2011. Oliviera was a defensive minded catcher with a great feel for the game. He caught for the Orioles first rounders Dylan Bundy and Kevin Gausman last year and also played with current Orioles 3rd baseman Manny Machado. In the off seasons he has spent his time coaching the San Diego Gamers travel team and giving private lessons in the San Diego area.
Oliveira is excited to start a coaching career with the Bombers. After recently making the decision to transition from playing to coaching he decided he couldn't pass up this opportunity. "The Northwoods League is a great league with a highly regarded reputation" said Oliveira. He is thrilled about all the talent coming to Battle Creek this summer and is eager to help the team have a great summer and help improve the players' game before they go back to their schools in the fall. Over the past few years he has had the pleasure of getting to know Brandon Higelin while training for his season in San Diego. "Higelin has a great mind for the game and an ability to relate to players" Oliveira raved. Oliveira is happy to have the opportunity to learn from him while coaching alongside him.
Robinson and Oliveira will join Field Manager Brandon Higelin and Pitching Coach Chris Smith for the 2013 season. Smith will also begin his first year with the team while Higelin will begin his third year, second as Field Manager.
The Battle Creek Bombers are members of the Northwoods League that has more teams, plays more games, and draws more fans than any other summer collegiate baseball league in America. The team opens up its 7th season in Battle Creek on Wednesday, May 29th. For information on tickets call (269) 962-0735 or visit BattleCreekBombers.com.