Express Add Two More to Roster
April 24, 2013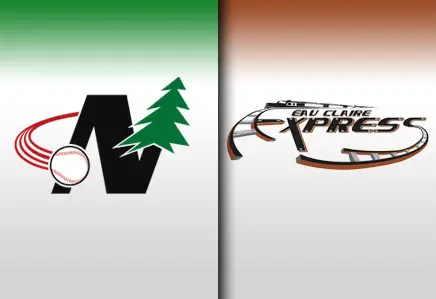 EAU CLAIRE, Wis. – April 24, 2013 – Field Manager Dale Varsho announced today two new additions to the 2013 Eau Claire Express roster. A first baseman and a right-handed pitcher, both coming from the southwest region of the United States, join the team to expand the roster to 25 players.
First baseman Chane Lynch, a 6-foot-4 inch and 195-pound junior from Dallas Baptist University, is batting .302 for the Patriots. He will bring the Express some power at the plate, belting four home runs in 20 games played. During a game against Seattle University on April 13, Lynch went 3-for-4 with a triple, homerun and two RBIs. His eighth inning home run turned out to be the winning hit as the Patriots went on to win the ballgame 9-4. He has helped lead Dallas Baptist, a Christian liberal arts school on the outskirts of Dallas, to a 20-16 record this spring. He is originally from Crawford, Tex.
"Lynch will secure the first base spot for us," Varsho said. "Talking to his coaches at DBU, he's a good player, a good person and he has a good work ethic."
Drew Bridges, who plays both infield and pitcher for the University of New Mexico, will strictly be asked to pitch for the Express this summer. The 6-foot-4 inch and 200-pound freshman right-hander from Fruita, Colo., currently holds a 2-1 record in seven appearances on the mound for the Lobos. He has held opponents to a .209 batting average, which is second best on the Lobos. In 25.2 innings pitched, he has struck out 14 batters. The Lobos have won seven games in a row after a 15-11 win against Nevada this past Sunday, April 21.
"He throws hard, he hasn't pitched many innings but New Mexico has high aspirations for him," Varsho said. "Hopefully he can come in here and secure either a starting role or be a middle relief guy."
With the addition of Lynch and Bridges, the Express have five more spots to fill. With the spring season in full force, be sure to check the Express roster page to follow how the players are doing in their spring seasons. Links to each player's updated spring statistics can be found in the bio section of their player page.
The Express begin their ninth season of Northwoods League play on May 29 in Madison to take on the Mallards. Eau Claire will play its Carson Park opener on June 2 against the Wisconsin Woodchucks. First pitch for that contest is set for 5:05 p.m.
The Northwoods League has more teams, plays more games and draws more fans than any other summer collegiate baseball league in North America.