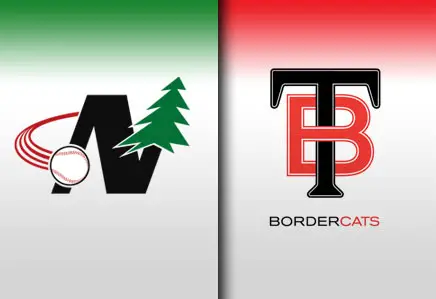 Thunder Bay, ON – With the season opener less than a month away, the Thunder Bay Border Cats have signed four more players for the 2013 Northwoods League season. Joining the Cats this summer will be pitchers Matt Blackham, John Havird, Garrett Baugh and second baseman/outfielder Dylan Becker.
Blackham is a 5'10", 155 pound righthander from Lenexa, KS., and is a sophomore at Johnson County Community College in Overland Park, KS. Blackham has made five appearances this season, including three starts, and is 2-2 with a 1.30 earned run average and 42 strikeouts in 27 innings pitched. He threw a seven inning no-hitter and struck out 16 in a 5-0 win over Allen Community College. Blackham has been named both the Kansas State Junior College and National Junior College Pitcher of the Week this season.
Havird is a 6'1", 180 pound lefthander and plays in his hometown at Mesa Community College in Arizona. The freshman has pitched in 13 games this season and is 3-7 with a 2.98 ERA. Havird has made nine starts and has struck out 56 batters in 66 innings.
Baugh attends Tennessee Tech University in Cookeville. The 6'1", 215 pound righthander is 3-1 in 14 games this season with a 6.94 ERA. The junior from Ooltewah, TN., has made six starts for the Golden Eagles and has recorded 27 strikeouts in 36 innings pitched.
Becker is a 6'0", 185 pound left-handed hitter from Leawood, KS. He is currently a sophomore at Missouri State University in Springfield. Becker has played in 33 games this year with the Bears and is batting .245 with three doubles, one home run and 15 runs batted in.
The Border Cats open the 2013 season in Willmar against the Stingers on Wednesday, May 29th. The Cats host the Stingers in their home opener Saturday, June 1st, at 6:05 p.m. at Subway Field.