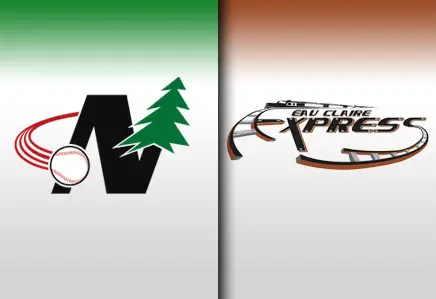 Pitchers TJ Larson and Jared Dettmann become the latest additions to the 2013 roster
EAU CLAIRE, Wis. – May 8, 2013 – Field Manager Dale Varsho announced today an additional two pitchers to the 2013 Express roster. Both players grew up in locations that are less than a two-hour drive from Carson Park.
TJ Larson, a right-handed pitcher for the Minnesota State Mavericks, is originally from Prior Lake, Minn. The 6-foot and 185-pound junior brings big game experience with him to the Express. Last year for the Mavericks, he pitched twice in the NCAA Division II championship, including a start in the national semifinal. In that game against Delta State, he threw six scoreless innings, struck out three and only allowed two hits. He was set up to be the winning pitcher before Delta State came back against the bullpen.
This season for the Mavericks, he has worked as a starter and has yet to lose a game as he sits at 6-0 on the year. In 31.2 innings pitched, he has a 3.70 ERA with 35 strikeouts and only 21 walks. He hasn't allowed a home run this season for a Mavericks squad that is ranked 10th in Division II with a 31-8 record. Varsho knows that Larson's character will be a great asset to the ballclub.
"TJ is a player that brings a great attitude and work ethic to the park each and every day," Varsho said.
Also coming to the Express is Somerset, Wis., native Jared Dettmann. After the 6-foot-3 and 170-pound sophomore left-handed pitcher spent last year at the University of Connecticut, he transferred to Century Community College in White Bear Lake, Minn. He has helped lead Century to a top five ranking in the NJCAA Division III. Last year at Connecticut, he appeared in seven games and earned a 2-1 record and struck out 19 batters. Playing for Somerset High School, Dettmann was named the 2011 Pioneer Press Player of the Year and was drafted in the 46th round of the MLB Draft by the Minnesota Twins.
Varsho has high hopes for Dettman's potential.
"Jared has the skills of being one of the best in the league," Varsho said.
With the addition of Larson and Dettmann, the Express only have two more players to add to complete the 30-man roster. With the spring season wrapping up and tournament play starting, be sure to check the Express roster page to follow how each player is doing in their respective spring seasons. Links to each players updated spring statistics can be found in the bio section of their player page.
The Express begin their ninth season of Northwoods League play on May 29 in Madison to take on the Mallards. Eau Claire will play its Carson Park opener on June 2 against the Wisconsin Woodchucks. First pitch for that game is set for 5:05 p.m.
The Northwoods League has more teams, plays in more games and draws more fans than any summer collegiate baseball team in North America.