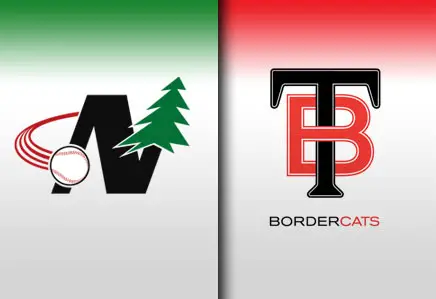 The Thunder Bay Border Cats are proud to announce that first baseman Ryan Casillas of Southern Illinois University will be returning to the team for the 2013 Northwoods League season.
The native of Chandler, AZ., played in 27 games for Thunder Bay last year before a hip injury sidelined him for the remainder of the season on June 28th. The 6'1", 225 pound righthanded hitter batted .269 with two home runs and 14 runs batted in for the Cats in 2012. Casillas is in his junior season at Southern Illinois, where he is hitting .298 with seven doubles, two home runs and 28 RBI's in 50 games.
The Cats have also signed pitcher John Hayes and pitcher Bradley Horn from Murray State College in Tishomingo, OK., as well as pitcher Cashtyn Deleeuw, pitcher Kyle Cornett and outfielder Ty Stetson from Murray State University in Murray, KY.
Hayes is 6'5", 205 pound righthander from Pottsboro, TX. In 21 relief appearances this season with the Aggies, the freshman is 4-0 with three saves and a 4.28 earned run average. Hayes has fanned 27 batters in 27.1 innings pitched.
Horn is a 6'1", 175 pound freshman from Rowlett, TX. The righthander has pitched in 14 games, making 11 starts, and is 3-4 with a 6.37 ERA.
Deleeuw is another Canadian on the roster, hailing from Grimshaw, AB. The 6'0", 195 pound junior righthander has made 11 starts for the Racers and is 3-3 with a 5.10 ERA. Deleeuw threw a complete game five-hit victory against Jacksonsonville State on April 13th, allowing just two runs and striking out seven.
Cornett is a sophomore lefthander from Fisherville, KY. The 6'2", 225 pound southpaw has appeared in four games in relief this season and is 0-0 with a 3.38 ERA.
Stetson is a 5'11", 195 pound lefthanded hitter from Carmel, IN. Stetson has played in 50 games for the Racers this season and the junior outfielder is batting .345 with eight doubles, three triples and 26 runs batted in.
The Border Cats open the 2013 season in Willmar against the Stingers on Wednesday, May 29th. The Cats host the Stingers in their home opener Saturday, June 1st, at 6:05 p.m. at Subway Field.