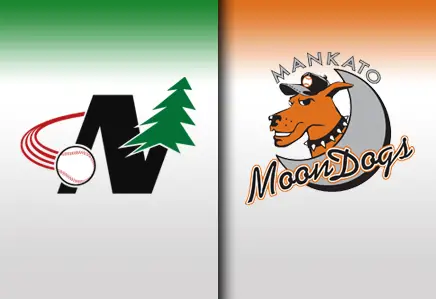 MANKATO, Minn. — The Mankato MoonDogs Baseball Club, a member of the Northwoods League, is excited to announce the commitment of pitchers Ryan Quick, Sam Clay and Brock Dykxhoorn to play for the MoonDogs in the 2013 season.
Quick, a 6-foot, 170 pound junior from Austin Peay University (Clarksville, Tenn.) is in his second season with the Governors after transferring from Rend Lake College. In 2012, Quick posted a 4.63 ERA in 83.2 innings of work while also racking up 58 strikeouts. This spring, Quick has posted a 2-0 record in 18 appearances while fanning 17 batters and holding them to a .213 batting average.
"Fans can expect to see Ryan as part of our rotation, he has a really good arm," said MoonDogs Field Manager Mike Orchard. He's been a high velocity guy for us and will perform well in our league."
Clay, a 6-foot-3-inch, 195 pound freshman from Georgia Tech University is in his first season with the Yellow Jackets after graduating from Buford High School (Buford, Georgia) in 2012. Prior to joining the team, Clay played for the East Cobb Yankees for the 2012 summer, where he was a part of the Perfect Game 18U World Wood Bat National Championship team. This spring, the lefty has posted a 2-0 record in 21 innings, while also collecting 17 strikeouts.
"We're excited to have Sam on board, he's a lefty who has a high 80s, low 90's range and is a great addition to our pitching staff," said Orchard.
Dykxhoorn, a 6-foot-8-inch, 225 pound freshman from the University of West Virginia is in his first season with the Mountaineers. Prior to WVU, the Gooderich, Ontario native was a member of the Team Canada Junior National Team, where he participated in the 2012 World Junior Championships in Seoul, South Korea. Through 21 innings this spring for the Mountaineers, Dykxhoorn has posted a 0.86 ERA while collecting 12 strikeouts and holding opposing batters to a .190 batting average.
"Brock will be a big right hander in the MoonDogs rotation this summer," said Orchard. "He's also a draft pick and we look forward to having him in Mankato."
Dykxhoorn was selected in the 20th round of the 2012 MLB Draft by the Cincinnati Reds.
The MoonDogs home opener is scheduled for Wednesday, May 29th at 705 p.m. against the Rochester Honkers at Franklin Rogers Park. Jeff Reardon will be the Opening Night Guest presented by Wealth Enhancement Group, along with a fireworks extravaganza. Season tickets are now on sale at the MoonDogs office located at 1221 Caledonia Street. For more information, visit our website www.mankatomoondogs.com or call the MoonDogs office at 507-625-7047.