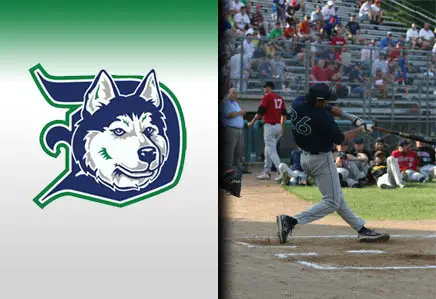 The 2010 Northwoods Home Run Derby was hosted by the Eau Claire Express at Carson Park and was held Tuesday night.  The Home Run Derby consisted of eight players across the Northwoods League and was headlined by 2009 winner Harold Riggins (NC State) of the Madison Mallards.  Duluth Huskie Mark Threlkeld (Louisiana Tech) won the 2010 Home Run Derby over Madison Mallard Kyle Gaedele (Valparaiso) with a towering shot to left field in the final round. 
The participants from the North Division were Duluth Huskies teammates Cody Asche (Nebraska) and 2010 champion Mark Threlkeld (Louisiana Tech), Rochester Honker Richie Jimenez (UNLV) and Thunder Bay Border Cat Tanner Nivins (Stony Brook). 
The South Division participants were 2009 champion Harold Riggins (NC State) and Madison Mallard teammate Kyle Gaedele (Valparaiso), Green Bay Bullfrog Scott Schebler (Wichita State) and Steve McGuiggan (Illinois Chicago) of the host Eau Claire Express. 
The Home Run Derby first round saw Threlkeld (4), Gaedele (2), Jimenez (1) and Nivins (1) all advance to the second round.  The second round was the Mark Threlkeld and Kyle Gaedele show.  The final round featured a North Division participant and a South Division participant in Threlkeld and Gaedele respectively.   
Duluth Huskie Mark Threlkeld, who is currently tied for the league lead in homeruns, took the title by beating Mallard Kyle Gaedele for the 2010 Northwoods Home Run Derby title.  Threlkeld hit nine homeruns on the night. 
Below is the round by round breakdown of how each NWL hitter performed.
Round 1:
Richie Jimenez (Rochester) (UNLV) 1
Scott Schebler (Green Bay) (Wichita State) 0
Mark Threlkeld (Duluth) (Louisiana Tech) 4
Kyle Gaedele (Madison) (Valparaiso) 2
Tanner Nivins (Thunder Bay) (Stony Brook) 1
Harold Riggins (Madison) (NC State) 0
Cody Asche (Duluth) (Nebraska) 0
Steve McGuiggan (Eau Claire) (Illinois-Chicago) 0
Round 2:
Richie Jimenez 1
Tanner Nivins 2
Kyle Gaedele 4
Mark Threlkeld 4
Final Round:
Kyle Gaedele 0
Mark Threlkeld 1
Watch Mark Threlkeld of the Duluth Huskies in the second half of the NWL season at www.northwoodleague.tv and other various homerun hitters.