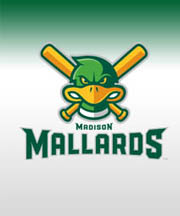 The Madison Mallards have signed a pair of University of Tennessee-Martin teammates for the 2011 season in junior outfielder Jordan Owen and sophomore pitcher Dan Tobik.
Jordan Owen, a junior outfielder from Kansas City, Missouri, hit .326 (70-for-215) with 14 doubles, a team-high and school record 18 home runs, and 51 RBI a year ago for UT-Martin. Last summer, while playing for New Market in the wood-bat Valley League based in the Shenandoah Valley in Virginia, he was named an All-Star after hitting .345 with eight doubles, three home runs, and 22 RBI. Owen made an impact right away as he recorded five hits, including the game-winning RBI single in the 10th inning in an opening night victory.
As a freshman at UT-Martin, he started 43 games in right field while batting .269 with 12 doubles, four home runs, and 28 RBI. Owen did not commit an error all season in 92 chances. He also made 10 appearances on the mound and finished the season with a 1-0 record and one recorded save.
Mallards Field Manager Greg Labbe is excited to have Owen's previous summer league experience rub off on his teammates in Madison.
"Jordan had some of the best numbers in the country last year as a sophomore and I would expect that type of production again this season," said Labbe.
"I love to add guys to a roster who have had previous success in the summer hitting with wood and Jordan is one of those guys. He is a tough competitor and will bring a lot of confidence and previous success; but I know he still feels like he has something to prove."

Dan Tobik, a sophomore right-handed pitcher from Ballwin, Missouri, was 3-2 with a 3.63 ERA over 22 appearances, including three starts, last season for UT-Martin. He proved to be a reliable reliever as he was second on the team in innings pitched (67) and strikeouts (59). Tobik was a three-sport (football, basketball, and baseball) athlete at Parkway West High School. His father Dan played in the major leagues for eight seasons (1978-85) with the Detroit Tigers, Texas Rangers, and the Seattle Mariners.
"Tobik was one of the best pitchers in the Ohio Valley Conference last season as a freshman," said Labbe.
"When you can continually add arms that could be front-of-the-line starters or closers I think that makes you tough to beat. Dan has the physical and mental ability to be a game-changer for us this summer."