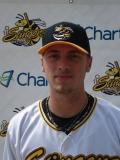 The National Collegiate Baseball Writer's Association released its NCAA Division II National Players of the Week awards for the period ending May 2nd. St. Cloud State's sophomore righthander Scott Lieser is the National Pitcher of the Week.
Lieser, a Browerville, MN native, tossed a no-hitter as St. Cloud State handed Northern State a 10-0 loss Wednesday, April 27, in Carlos, Minn. Lieser struck out 10 batters in seven innings of work to remain a perfect 6-0 on the season, while giving the SCSU a crucial Northern Sun Intercollegiate Conference win. Lieser walked just one batter and only four NSU batters reached base.
The 6'3" right-handed pitcher now has 36 strikeouts on the season in 46.1 innings of work, while walking just seven batters. Lieser now owns a perfect 7-0 record this spring with a 3.11 ERA to his credit for the Huskies. Lieser is the first pitcher from the Division II Central Region to earn NCBWA National Pitcher of the Week notice this season.
Lieser was a member of the Waterloo Bucks in 2010 and finished the season with a 2-1 record in 25.0 innings pitched. The hard throwing righty finished the season with the Bucks second best ERA (2.16). Lieser will play this upcoming 2011 season in the North Division of the Northwoods as a member of the Willmar Stingers.
Follow Lieser and the St. Cloud State Huskies (33-8), who are currently ranked 1st in the Central Region, in their quest for a NCAA National Championship.