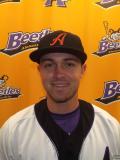 ALEXANDRIA, Minn. (July 28, 2012) – Alexandria Beetles catcher and first baseman Robert Case (St. John's) earned Northwoods League Player of the Night for Saturday, July 28.
Case was 3-for-5 at the plate with three RBI and two runs scored. His biggest RBI came in the bottom of the ninth when he connected on a walk-off solo home run to center field. It was his second home run of the night, which gives him six on the season.
The Beetles won the game 10-9. The Alexandria Beetles will host the Bucks on Sunday for a 3:05 p.m. start.