Former Loggers Manager Hired by Colorado Rockies
September 21, 2012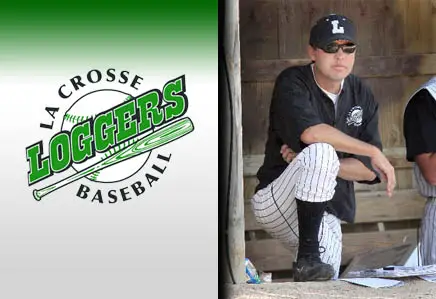 McKay to Assume Role of Mental Skills Coordinator
LA CROSSE, WI – The La Crosse Loggers Baseball Club announced today that former manager Andy
McKay has been hired as the Coordinator of Mental Skills for the entire Colorado Rockies organization.
McKay, who had announced earlier this year that 2012 would be his fifth and final season in a Logger uniform, recently resigned his post as the head coach of the Sacramento City College Panther program and will officially begin his duties with the Rockies on September 20 when he meets up with Rockies players and coaches at instructional league in Arizona.
As the mental skills coordinator for Colorado, McKay will work with players and coaches of all levels of the Rockies organization from rookie ball up to the big leagues. The Sacramento, Calif. native has been asked to incorporate his mental game teachings and system that he used in La Crosse for the past five summers into each level of the Rockies organization.
"Cap" certainly went out on top in his final season at the helm of the Loggers. La Crosse posted a 53-21 record this past summer, the second best record in Northwoods League history, en route to capturing the 2012 Northwoods League title.
The Loggers won more games than any other team in summer collegiate baseball over the past five seasons under McKay's guidance, posting a record of 210-139 (.602) during that span (2008-20012). La Crosse made two post-season appearances, advancing to the Championship both times (2009 & 2012), and never won less than 38 games in a season. He ended his Logger career sixth all-time in victories and fourth all-time in winning percentage in the NWL and is the Loggers all-time winningest manager. 45 former Loggers were also drafted during McKay's tenure, including current big league pitcher Chris Sale (White Sox).
The Colorado Rockies are no stranger to former Loggers as infielder Jordan Pacheco (2005 Logger)
currently sports a .313 batting average for the big league club with four home runs and 41 RBI's and
2010 Loggers Matt Flemer and Patrick Hutcheson are currently in the Rockies farm system, having just finished their summers with the Tri-City Dust Devils (Short Season A). Another member of the 2010 Loggers club, Chris O'Dowd, is also the son of Rockies general manager Dan O'Dowd.
The Loggers will open their eleventh season of play at a date to be determined in May, 2013.
The 2013 slate of games will be released later this fall from the Northwoods League office. The Loggers business office/retail store will remain open year-round at 1225 Caledonia St., La Crosse, M-F, 8-5. Fans may also call the Loggers office at 608-796-9553 or visit www.lacrosseloggers.com for team and ticket information.