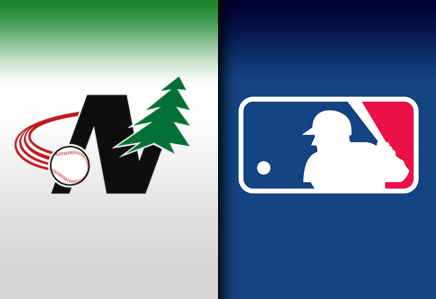 With the start of the baseball season officially happening last night and almost every team in action today, 25 former Northwoods League players open the season on a big league roster.
St. Louis Cardinals reserve outfielder Allen Craig (Alexandria '03/05) is the only of the 25 players that enters the season with no Major League experience. The 2006 eighth round draft pick hit .322 with 26 home runs and 83 RBI in Triple-A last season.
Four of the players are with new teams in 2010. Outfielder Juan Pierre (Manitowoc '96) is now the starting centerfielder for the Chicago White Sox and Curtis Granderson (Mankato '01) patrols centerfield for the New York Yankees. Granderson hit a home run in his first at-bat for the Bronx Bombers last night. Right-hander Max Scherzer (La Crosse '04) holds the third spot in the Detroit Tigers' starting rotation. Mike McCoy (Brainerd '00) earned a reserve role as a utility player with the Toronto Blue Jays.
A pair of relief pitchers join McCoy on the Jays' roster. Righties Jeremy Accardo (Alexandria '01) and Casey Janssen (Wisconsin '01) give the Blue Jays three former Northwoods Leaguers. The Los Angeles Dodgers also have three NWL alumni on their squad with outfielder Andre Ethier (Rochester '02) and relief pitchers George Sherrill (Kenosha '97-98) and Jeff Weaver (Dubuque '95).
Three Major League teams have two former NWL players on their roster. Second baseman Clint Barmes (Kenosha/Waterloo '98-99) and outfielder Ryan Spilborghs (Madison '01) both suit up for the Colorado Rockies. The Chicago Cubs have a pair of pitchers with lefty Tom Gorzelanny (St. Cloud '01) and righty Justin Berg (Wisconsin '03). In Seattle, the Mariners have right-handed relief pitcher Mark Lowe (Wisconsin '02-03) and infielder Jack Hannahan (Mankato '99), but Hannahan opens the season on the 15-day disabled list.
Elsewhere, outfielder Robb Quinlan (Dubuque/St. Cloud '96/98) is back with the Los Angeles Angels after spending the entire offseason as a free agent and receiving a minor league contract to rejoin the Angels. Side-arming reliever Pat Neshek (Wisconsin '00) returns to the Minnesota Twins after missing all of the 2009 season after undergoing Tommy John surgery. Outfielder Josh Willingham (Austin '98-99) is with the Washington Nationals, All-Star second baseman Ben Zobrist (Wisconsin '03) is looking for another big year with the Tampa Bay Rays, right-hander Doug Mathis (Duluth '04) earned a bullpen spot with the Texas Rangers, left-handed specialist Daniel Herrera (La Crosse '05) is in the Cincinnati Reds' bullpen, Nick Hundley (Alexandria '04) is the starting catcher for the San Diego Padres, Casey McGehee (St. Cloud '01) is the opening day third baseman for the Milwaukee Brewers, and Jason Jaramillo (St. Cloud '02) is the backup catcher for the Pittsburgh Pirates.