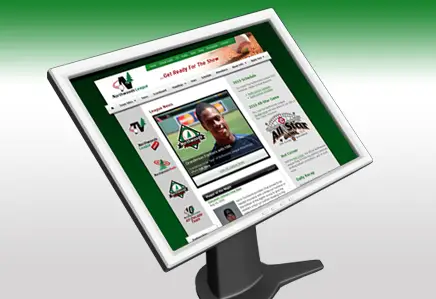 (ROCHESTER,MN) The Northwoods League launched an updated version of northwoodsleague.com on Wednesday afternoon, the first of a string of advancements coming to the Northwoods League family of websites.
The latest version of northwoodsleague.com doesn't stray far from the layout fans have grown accustom to, but the new site certainly will allow fans an even better browsing experience. In addition to a quicker loading time, a new header and footer will be found on all pages of the website. Among a number of upgrades,you'll notice an easier access to team websites, a quick link to NWL social media (like Twitter, Facebook, and YouTube), and an enhanced version of "The Hot Corner", the Northwoods League blog.
During the off season on the blog, found at blog.northwoodsleague.com, you can read about the latest happenings from the teams in the Northwoods League. And once the season begins, you'll be able read about even more articles and opinions written about the NWL and its affiliated teams, compiled in one place.

Today's website upgrade kicks off a busy month of May for the NWL.

"It'll bean exciting month for the Northwoods League," said NWL Director of Operations Curt Carstensen. "This is the first of four big improvements we're unveiling in the final month before our season. This summer, people are going to be able to spend a lot of time on our websites and really enjoy what they're seeing and doing."
The re-launched website and blog were designed by Scott Witwer at http://www.webimax.com.
The Northwoods League has more teams, plays more games, and draws more fans than any Summer Collegiate Baseball League in North America. The League's 17thseason begins on Wednesday, June 2nd.