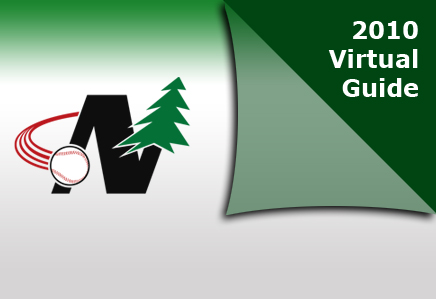 (ROCHESTER, MN) The Northwoods League has "gone green" in 2010 with today's launching of the Northwoods League Virtual Guide. The Guide, found at NWLGuide.com, is the second of four big technical advancements coming to the Northwoods League family of websites prior to opening day on June 2nd. Earlier this month the Northwoods League re-launched www.northwoodsleague.com.
The Virtual Guide gives fans an exciting new way to see and learn everything Northwoods League.
"What you see as you first look at it is what appears to be a magazine, except on the internet," said NWL Director of Operations Curt Carstensen. "But as you flip through the Guide the videos jump off the page while the articles and photos expand in to pop-up screens. Even though it's big and packed with information, it is still very easy to use."
The Virtual Guide replaces the Northwoods League Media Guide and Record Book, which had been printed annually from 2002 through 2009. What started as a 48-page book in '02 had turned into a 424-page monstrosity by '09. The new Virtual Guide reduces the size to 112 pages using the new technology. All of the Northwoods League's historical records are viewable and downloadable through the Guide.
The Virtual Guide was designed by www.pursuantsports.com.
The Northwoods League has more teams, plays more games, and draws more fans than any Summer Collegiate Baseball League in North America. The League's 17th season begins on Wednesday, June 2nd.