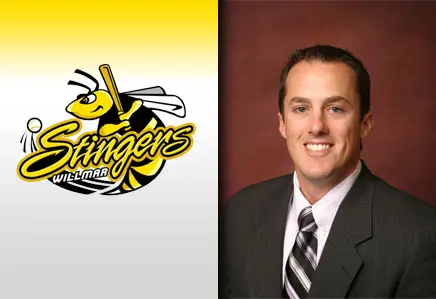 The Willmar Stingers announced today that Matt Hollod will return as Field Manager for the 2011 season. Hollod managed the Stingers to a 39 – 31 record falling short by a .006 winning percentage from making the playoffs in their 2010 Inaugural season. The Stingers finished second overall in the North Division and tied for the fifth best record of sixteen teams in the Northwoods League.

"Fans had a chance to see some exciting baseball this past summer," Co-owner Marc Jerzak said. "We agree with Matt's coaching philosophy as he led a solid group of athletes this summer, nearly making the playoffs," added Jerzak.

Matt Hollod is currently an assistant coach at DeSales University in Center Valley, Pennsylvania. Before is current position, Hollod was an assistant coach at Southern Utah University and an assistant coach at Willamette University (Salem, OR). Prior to Willamette, Hollod served as an assistant coach at the University of Portland from 2003-08. His duties, at one time or another included recruiting, scheduling, fundraising, summer placement for players, conditioning, outfield play, pitching and hitting. Hollod also served as an academic advisor for his players on campus.
Prior to his coaching career, Hollod was a four-time letter winner in baseball at the University of Washington and the University of Portland. He was an honorable mention all-West Coach Conference selection during his junior season where he was a consistent starter for the Pilots on the mound. As a hitter, Hollod led the team with a .346 average in his final season in Portland.