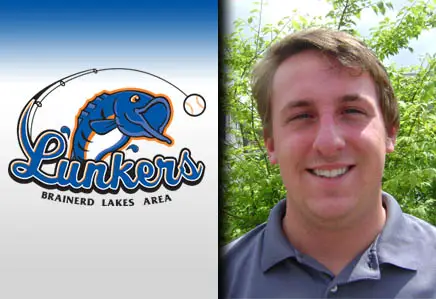 The Brainerd Lakes Area Lunkers are proud to announce the promotion of Dustin Anaas as the new General Manager. Anaas, who will enter his fourth season in the Northwoods League and third with the Lunkers, is already hard at work getting ready for the 2011 Northwoods League Season.
"It's an exciting time of year for us right now," Anaas said. "I look forward to my increased role with the team and the challenges and responsibilities that come along with it. The bottom line is that we are going to continue to raise the bar and that 2011 is going to be a great year for Lunkers Baseball."
A native of Minneapolis, Anaas is a 2009 graduate of the University of Wisconsin-Madison with a degree in Communication Arts. His first season in the Northwoods League was spent as an intern with the Madison Mallards before being hired as Promotional Coordinator for the Lunkers' inaugural season in 2009 and being hired on as the team's Assistant General manager last September.
"Dustin has really embraced his role with the team and we ultimately decided to recognize him for his efforts," team owner Joel Sutherland said. "He has been a part of this organization since its inception and is going to do a great job building on the groundwork we have laid over the last two years."