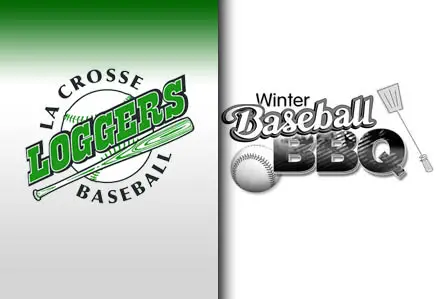 It may be January in Wisconsin, but baseball will most certainly be on the forefront of
fans' minds this Thursday, January 27 when the La Crosse Loggers 9th Annual Winter Baseball BBQ makes its way to the La Crosse Center South Hall (La Crosse, Wisc.).
The Loggers, in conjunction with Kwik Trip and the University of Wisconsin- La Crosse baseball program, announced on Dec. 2, 2010 that they will be hosting a very special hot stove event this Thursday featuring Hall of Famers Robin Yount and Paul Molitor as well as former Milwaukee Brewers Jim Gantner and Jerry Augustine.
The same contingent announced on December 15 that the Famous Klement's Racing Sausages would also be joining the party. Today, even more additions were announced as BBQ goers will also get to see the following La Crosse area natives that made it all the way to the big leagues: Damian Miller, George Williams, Vinnie Rottino, Tony Ghelfi, Chuck Hockenberry, Everett Johnson as well as a pair from the All-American Girls Professional Baseball League in Dolly Ozburn and Louise Sauer will be in attendance.
The event was originally scheduled to take place at the Stoney Creek Inn (Onalaska), but demand for tickets pushed the BBQ to the La Crosse Center South Hall. There are still $150 tickets available, which include access to the V.I.P. party and an individual reserved seat, at the Loggers retail store/business office (1223 Caledonia St., La Crosse). All proceeds from this one-of-a-kind event will go directly to help the UW-L baseball program.
There will be a wide array of silent auction items also available for bidding at the event including, but not limited to, a game worn autographed Prince Fielder jersey, a Ryan Braun autographed glove, an autographed George Brett Jersey, a Green Bay Packers helmet and much more. Hot Dogs and bratwurst from Klement's will also be on sale at the event with all proceeds, again, going to UW-L Baseball.
Doors open to the public at 6:00 p.m. and the first pitch of the program will be thrown at 7:05 p.m. The program itself will be staged in the form of a nine-inning baseball game with speakers from such groups as the La Crosse Loggers, UW-L baseball and "Friends of Baseball at UW-L" committee with the feature part of the event being an open panel discussion between Yount, Molitor, Gantner and Augustine as they reminisce and share stories.
All fans are encouraged to wear their favorite baseball jersey to the event.