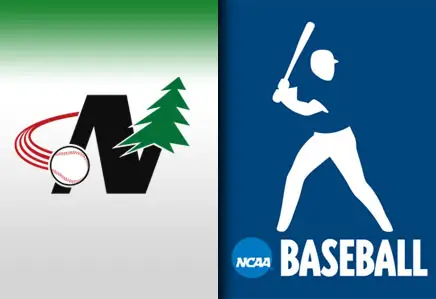 The Collegiate Baseball Newspaper has announced their Pre-season All-American Teams for the 2011 season. The Central Region Pre-season All-American team consists of players from the Northern Sun Intercollegiate Conference (NSIC) and the Rocky Mountain Athletic Conference (RMAC). The 15 player list consisted of 10 current or former Northwoods League Players.
The Central Region team was dominated by the NSIC which had all but two players on the list. 2010 Northwoods League All-Stars Tony Mueller (La Crosse) and Jordan Smith (Willmar) headlined the list for the Northwoods League. Mueller was named 1st Team All-NSIC in 2010 while Smith was named NSIC Freshman of the Year. Mankato State Maverick teammates Blake Schwartz (Mankato) and Luke Putz (Waterloo) made the list as pitchers along with righty Nick Anderson (Brainerd).
Infielders Bryan Lippincott (Rochester), Tyler Erickson (Duluth) and Cody Curry (Alexandria) all made the Central Region team after productive 2010 campaigns in the NSIC. Also making the list as an infielder was Deryk Marks (St. Cloud) after his 2010 season as NSIC Newcomer of the Year. Outfielder Nate Baumann (Eau Claire) deservingly made the Central Region list after being named 2010 NSIC Player of the Year.
Central Region Pre-season All-Americans-Northwoods Players only
Position/Name/School/NWL Team
3B Deryk Marks, Augustana, St. Cloud
OF Nate Baumann, Augustana, Eau Claire
SS Bryan Lippincott, Concordia-St. Paul, Rochester
SS Tyler Erickson, Minnesota Duluth, Duluth
RHP Blake Schwartz, Minnesota State, Mankato
RHP Luke Putz, Minnesota State, Waterloo
3B Jordan Smith, St. Cloud State, Willmar
RHP Nick Anderson, St. Cloud State, Brainerd
DH Cody Curry, SMSU, Alexandria
OF/RHP Tony Mueller, Winona State, La Crosse
Follow these Northwoods League stars at www.northwoodsleague.com and also www.northernsun.org this upcoming 2011 spring and summer. The Northwoods League has more teams, plays more games, and draws more fans than any Summer Collegiate Baseball League in North America.