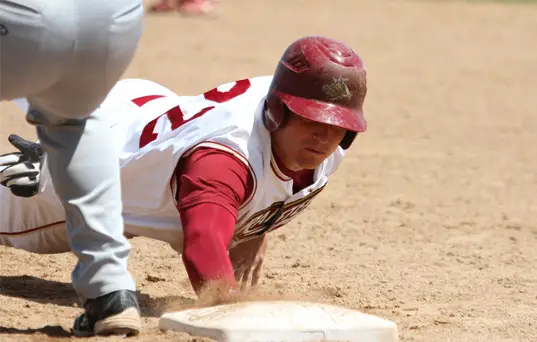 The Wisconsin Rapids Rafters are pleased to announce that UW-Stevens Point junior outfielder/pitcher Cody Koback will return for his second season with the Rafters in 2011. The Plover, WI native was one of two WIAC players to be named to the Northwoods League All-Star team in 2010.
Koback was limited to eight games last year for UW-Stevens Point before his spring season ended with an injury to his right (throwing) elbow. His arm was healthy again by summer and the Rafters and their fans were grateful. Koback appeared in the lead-off spot in the Rafters first ever game, promptly lining a single into the outfield grass for the first hit in franchise history. That became just the start down the road to his All-Star season.
Koback picked up three hits over his first two games in the Northwoods League, making the transition to a wood bat seem effortless. After a short dry spell to end the season's first week, Koback went on a tear and crafted a nine game hitting streak from June 7th to June 18th. Over that span Koback posted six multi-hit games, including a pair of three hit performances.
Along with being a speedy threat (11 stolen bases in 2010) who can handle the bat at the top of the order, Koback also proved his worth as a run producer. He finished the season tied for first on the team with 4 home runs while ranking third on the team with 19 RBI.
While paving the way on the offensive side for the Rafters, Koback never lost sight of his defensive game. Penciled into right field most of the season, the strong armed outfielder lead the team in outfield assists with 6, while committing only one error.
Koback also appeared in 15.1 innings on the mound for the Rafters last summer, while recording 10 strikeouts.
Koback ended up leading the 2010 team in multiple offensive categories including games played (58), hits (58), runs scored (30), batting average (.305), on base percentage (.404), hit by pitch (12), slugging percentage (.405), while also tying for the team lead in home runs (4).
Koback, fellow Rafters teammate Justin Jirschele, and the Pointers baseball team open their spring season this Saturday, March 19th in a contest against Oglethorpe University in Auburndale, FL.