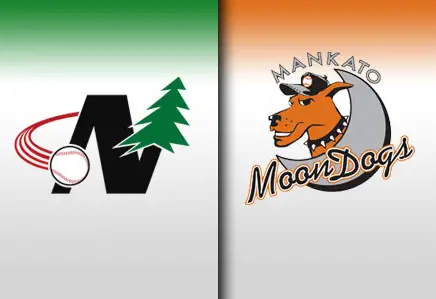 The Mankato MoonDogs Baseball Club is proud to announce the signing of three players for 2011 season. Right-handed pitcher Patrick Golez from Bethune-Cookman (Daytona Beach, FL), infielder Evan Frazar from Galveston College (Galveston, TX), and outfielder Brennan Moore from Grayson Community College (Denison, TX) have committed to play for the MoonDogs for the 2011 season.
Golez, a 6-foot-3-inch, 175-pound sophomore boasts a 7-3 record with a 3.03 ERA in nine starts this spring for the Wildcats. Golez currently holds the team lead in strikeouts (67), shutouts (1), and is tied for the team lead in wins (7), and complete games (2).
Golez has had good success as a starter this spring for the Wildcats" said Mankato MoonDogs Field Manager Mike Orchard. "He is a flexible guy that can both start for us or come out of the bullpen."
Frazar, a 6-foot, 195-pound sophomore is hitting .331 for the White Caps with five doubles, two triples, and two home runs. Frazar has also been burning up the base paths, already racking up 22 stolen bases this spring. As a senior at St. Pius X High School (Bellaire, TX), Frazer received All-State, All-District, and All-American honors, while leading his team to a State Championship.
"Frazar is a left side defender who knows how to play the game right," said Orchard. "He has proven that he has talent swinging the bat, I think MoonDogs fans are really going to enjoy watching him play."
Moore, a 5-foot-9-inch, 165-pound sophomore has been swinging a hot bat for the Vikings this spring. With a .392 batting average, five home runs, and 62 runs scored, Brennan has been a big contributor to Grayson's 38-14 record. Always giving the Vikings an efficient at-bat, is second on the team with a .475 on-base percentage.
"Brennan will be transferring to Texas Tech in the fall. He has been a lead-off guy that can really swing the bat for Grayson," said Orchard. "A real grind it out guy, he can all three outfield spots."