Monday Night in the NWL
June 6, 2011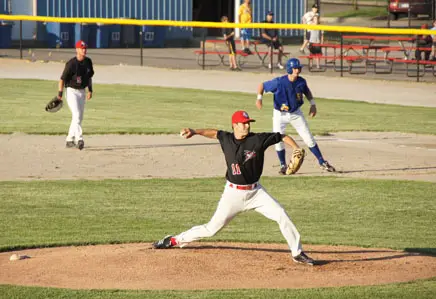 North
St. Cloud 6, Brainerd 3
The St. Cloud River Bats won their 2nd game of the season and improved to 2-3 as they beat Brainerd 6-3 Monday night. The River Bats received a solid pitching performance from Jon Richard (Xavier) as he threw a five hitter in 7.0 innings of work. Andy Henkemeyer was 2-for-5 with one RBI for St. Cloud in the victory. Dan Olinger (Minnesota) stayed hot at the plate in the loss as he knocked out two hits to improve his average to .480 for the Lunkers.
Thunder Bay 1, Rochester 0
Thunder Bay won a pitching duel Monday night as they beat the Honkers 1-0. Thunder Bay used four pitchers who combined to throw a two hitter while striking out ten Honker hitters. Rochester's Alex Alemann (St. Louis) was the tough luck loser as he only allowed two hits in 8.0 innings of work. Alex Guthrie (Loyola Marymount) drove in the games only run in the 6th inning on a sacrifice fly to right field.
Mankato 11, Duluth 9
Mankato remains the only undefeated team in the Northwoods in 2011. The MoonDogs defeated the Duluth Huskies Monday night by a score of 11-9. Mankato was behind 9-8 after seven innings of play, but used a three run 8th inning to take the game 11-9. All MoonDogs starters registered a hit with Matt Reida (Kentucky) leading the way with four hits and three RBIs. Mike Bisenius (Wayne State, NE) drove in three runs in the loss for the Huskies.
Willmar 5, Alexandria 3
The Willmar Stingers bats got hot late in the game Monday night and beat the Beetles 5-3. Willmar was paced offensively by infielders Jake Stinnett (Maryland) and Jason Leblebijian (Bradley). Stinnett had two hits and three RBIs while Leblebijian drove in two runs. Ricky Knapp (Florida Gulf Coast) earned his 1st win of the season while scattering seven hits in 7.0 innings of work. Jason West (Stephen F. Austin) collected his 1st save of the season while working 1.1 innings and only allowing one hit.
South
Battle Creek 7, Green Bay 6
The Battle Creek Bombers came from behind Monday night at Joannes Stadium in Green Bay. The Bombers were down 6-4 after seven innings of play, but put up a three run inning in the top of the 8th to take a 7-6 lead. Kristian Calibuso (Eastern Michigan) threw the final 2.0 innings for the Bombers to earn the save for Battle Creek. Troy White (Northern Illinois) had two hits and two RBIs in the win. The Bombers are now 5-1 on the season and the Bullfrogs are 4-2.
Madison 3, Wisconsin 1
The Mallards jumped out to a quick 3-0 lead after two innings of play and held on to win 3-1 at Athletic Park in Wausau Monday night. Madison's Matt Hollenbeck (Illinois State) drove in two runs with a 2nd inning homer and collected three hits in the game. Joel Effertz (Madison College) earned the win for Madison while Zach White (Wake Forest) collected his 3rd save of the season.
Eau Claire 5, La Crosse 2
The Eau Claire Express took a 5-0 lead over the La Crosse Loggers after six innings of play and never looked back. DeMarcus Tidwell (Southern Poly Tech) had three hits while Nick Addison (Illinois-Chicago) drove in two runs in the Express win. Alec Crawford (Des Moines CC) earned the win for the Express as he threw a three hitter in 5.0 innings of work. Erik Schoenrock took the loss for La Crosse after rough 1st inning as he allowed two runs.
Waterloo 8, Wisconsin Rapids 7
The Waterloo Bucks evened their record to 3-3 Monday night as they beat Wisconsin Rapids (0-6) 8-7. The Bucks were trailing 7-5 in the bottom of the 7th inning, but scored two runs in the 7th and one in the 9th to win the game 8-7. Waterloo was led offensively by Jeff Popick (Mesa State) who homered and drove in three runs. Matt Reistetter (Hofstra) and Cameron Perkins (Purdue) each drove in two runs for the Bucks. Mark Strey (Wisconsin Milwaukee), Justin Jirschele (Wisconsin Stevens Point), and Joshua Cyr (North Alabama) all had two hits in the loss for Wisconsin Rapids.