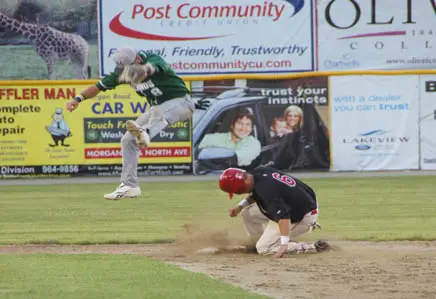 North
Brainerd 6, Mankato 4
Brainerd improved to 8-3 in 2011 as they beat the Mankato MoonDogs 6-4 at Franklin Rogers Park. The Lunkers were out hit by the MoonDogs, but used three runs in 7th inning to break a 3-3 tie. Casey Roche (Pittsburgh) performed well at the plate and on the mound. The utility-man had two hits and earned his 2nd save of the season. Also, Lunkers leadoff man, Tyler Wampler (Indiana State), drove in two runs in the win. Tyler Sparger (Indian Hills CC) earned the win in relief.
Alexandria 6, St. Cloud 2
The Beetles evened their record to 5-5 Saturday night as they defeated the St.Cloud River Bats 6-2 at Joe Faber Field. Alexandria's starting pitcher Jon Reed (Tennessee) was impressive on the mound as he allowed one run in 7.0 innings of work. The River Bats Mitchell Garver (New Mexico) was a perfect 4-for-4 at the plate with a double and two RBIs.
Willmar 2, Rochester 1
Hits were scarce Saturday night in Willmar, Minn., as the Stingers and Honkers combined for ten hits. Winning pitcher Tanner Banks (Salt Lake) only allowed three hits in 6.2 innings of work and relief pitcher Kurt Spomer (Creighton) picked up his 2nd save as he threw the final inning. Willmar's eight and nine-hole hitters, Eduardo Gonzalez and Anthony Hincy (Doane), both registered an RBI in the win.
Duluth 3, Thunder Bay 1
Huskies starting pitcher Ben Jungers (Minnesota Duluth) set the tone for Duluth Saturday night as he only allowed four hits in 7.0 innings of work. Offensively Duluth used single runs in the 4th, 5th and 6th innings to take down the Border Cats at Wade Stadium. Jacob Wise was 3-for-4 in the win for Duluth.
South
Wisconsin 6, La Crosse 4
The Loggers jumped out to a quick 4-0 lead, but allowed six unanswered runs from the Woodchucks to lose. Wisconsin's Nick Greene (Rio Hondo) shutdown the Loggers for the final 4.0 innings to earn the win in relief. Austin Coleman (CS-San Marcos) and Carlos Escobar (Nevada-Reno) each had three hits. Coleman had two doubles and drove in two while Escobar doubled three times and drove in three. Trentt Copeland (Evansville) had two hits and scored two runs for the Loggers in the loss.
Waterloo 4, Green Bay 2
The Bucks used a two run 6th inning to break a 2-2 at Riverfront Stadium in Waterloo Saturday night to earn the win. Waterloo's Jeff Popick (Mesa State) was 2-for-4 with two RBI's and hit his 2nd homer of the season. The Bucks pitching staff only allowed seven hits as Jake Powers (Missouri State) and Jake Thompson (Iowa Western CC) shut down the Bullfrogs offense. Powers earned his 1st win of the season and Thompson earned his 1st save of 2011.
Battle Creek 2, Madison 1
The Bombers and Mallards were tied at 1-1 going into the 7th inning Saturday night, but the Bombers used a Brett Wiley (Evansville) run to break the tie. The Bombers pitching staff struck out nine Mallards and only allowed four hits on the night. Alex Tukey (Minnesota) earned the win in relief and Kristian Calibuso (Eastern Michigan) collected his league leading 4th save. The Bombers are now 8-3 and 1st in the South Division. The loss puts the Mallards at 6-4 and 1.5 games back of the Bombers for 1st place.
Eau Claire 5, Wisconsin Rapids 2
Eau Claire used a great pitching performance from their pitching staff and a three hit night from Ryan Shober (Illinois Chicago) to beat the Rafters. Express pitchers Ryan Longstreth (Central Michigan), Mahlon Zimmermann (Mankato State) and Evan Zerff (Long Island) combined to throw a five hitter while striking out ten Rafters. Shober homered, drove in one run and scored two more. Ty Forney (New Mexico State) also had two hits in the win for the Express.