Three Walk-off Victories Highlight Monday's Action
August 1, 2011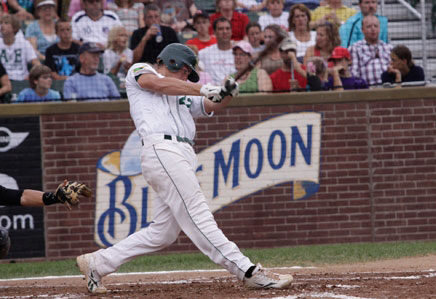 Battle Creek 5, Waterloo 1
Daniel Rockett (Texas-San Antonio) homered and drove in four runs for the Battle Creek Bombers as they wrapped up the series with a victory over the Bucks in front of 2,137 fans in Waterloo. The Rockett three-run home run was his 5th on the season and came in the 1st inning. That was plenty of run support for Troy Forton (Western Michigan) who tossed six innings, limiting the Bucks to one run on four hits while striking out four. Jordan Dean (Central Michigan) went 3-for-5 with a run and an RBI for the Bombers. Colin Keefe (Des Moines Area CC) scored the Bucks' lone run.
Wisconsin 15, Wisconsin Rapids 7
Danny Susdorf (UC-San Diego) drove in seven of the Woodchucks' 15 runs in a three-inning stretch as Wisconsin routed Wisconsin Rapids by a 15-7 score. Susdorf had a two-run double in the 5th, a two-run single in the 6th, and a three-run double in the 7th inning. As a team the Woodchucks tallied four runs in the 5th, six in the 6th, and five in the 7th inning. Austin Coleman (Cal State-San Marcos) had a pair of hits and three RBIs for Wisconsin. Curtis Frisbie (Nevada-Reno) led the Rafters at the plate with three RBI.
Mankato 3, Brainerd Lakes Area 0
Mankato used three early runs and three pitchers on their way to a 3-0 shut out victory at Brainerd Monday night. Jordan Remer (San Francisco) allowed just two hits but walked six while striking out three batters over five innings. He earned the win to improve to 3-3 on the season. Matt Mazzoni (Fresno Pacific) fanned five in three scoreless innings of relief. Mike Rivera (Fresno Pacific) tossed a scoreless 9th to earn the save. MoonDogs catcher Jake Randolph (Texas Tech) was the only player in the game with two hits.
Eau Claire 8, Green Bay 4
A big six-run 5th inning helped the Eau Claire Express earn a road victory in Green Bay Monday night. Zac Fisher (New Mexico State) had the game's biggest hit with a three-run double in the 5th inning. He finished 3-for-5 on the night. Ben Kincaid (MSU-Mankato) was 3-for-3 for the Express with a run and an RBI. Nick Stein (Coe College) led the Bullfrogs at the plate by going 3-for-4.
Rochester 2, Willmar 1
Devin Thaut (Southern Polytechnic State) singled home Reid Roper (Illinois) to cap off a two-run 9th inning and a walk-off victory for the Rochester Honkers at home Monday night against the Willmar Stingers. Jake Page (Madison College) drove in the game-tying run one batter earlier. Willmar scored their lone run on a sacrifice fly by Garrett Borba (Pacific) in the 5th inning. Jeff McKenzie (Delta College) tossed eight strong innings of one-run ball in the no-decision. Rochester native Kyle Sursley (RCTC) picked up the win in relief by pitchin a scoreless 9th inning in his Honkers debut.
Thunder Bay 1, Duluth 0
Kyle Mossbarger's (Wright State) RBI sacrifice fly in the bottom of the 9th inning was the only run of the game as it gave the Border Cats a walk-off victory over the Huskies at Port Arthur Stadiium. It was a great pitcher's duel between Joseph Koon (Southeastern Louisiana) and Tyler Blomberg (Minnesota-Duluth) although neither starter factored into the decision. Koon struck out 10 Huskies batters in 8 1/3 innings without issuing any walks. Blomberg fanned seven in 7 innings while walking two. Adam Humes (Northwood) had a pair of hits in defeat for Duluth.
Madison 4, La Crosse 3 (10 innings)
Zack Powers (Florida) singled home Willie Argo (Illinois) in the 10th inning to give the Madison Mallards a walk-off victory Monday night at the Duck Pond in Madison. The Mallards scored two runs in the 8th inning to tie the score at 3-3 including another RBI hit, this one a double, by Powers. Andrew Wasmund (Madison College) had three hits in the game for the Mallards. Jimmy Bosco (Arkansas) had a pair of hits and two RBIs in defeat for La Crosse. Tom Windle (Minnesota) allowed just one earned run over 5 1/3 innings while striking out seven in a no-decision for Madison.
Alexandria 2, St. Cloud 0
Two early runs was all Alexandria needed in their shut out victory at St. Cloud. Matt Fyffe (Eastern Kentucky) combined with his college teammate Anthony Bazzani to strike out 13 River Bats in the game. Fyffe went seven innings while walking one and striking out 10 to improve his record to 4-3. Bazzani went the final two frames, striking out three to notch his eighth save. Jon Richard (Xavier) was solid in defeat. He went seven innings, striking out seven with four hits and two runs allowed. The start of the game was delayed nearly two hours after heavy rains hit the St. Cloud area earlier in the day.