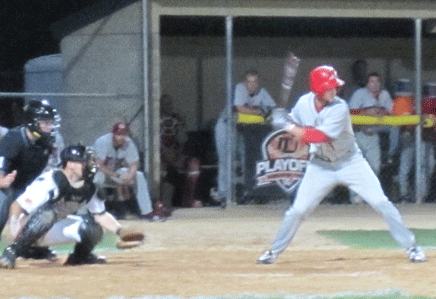 Battle Creek 11, Mankato 6
Battle Creek leads series 1-0
The Battle Creek Bombers pounded out 14 hits and the Mankato MoonDogs committed five errors as the Bombers took Game One of the Summer Collegiate World Series on Thursday night in Mankato. Three different Bombers players had three hits apiece in the game led by Daniel Rockett (Texas-San Antonio) who homered twice, scored three times and drove in three. Bryce Redeker (Miami (OH)) also went deep and had three hits and two RBIs. Troy White (Northern Illinois) finished 3-for-5 with two RBIs and two runs scored. Mankato was led by Cody Ferrell (Seminole State) who went 3-for-4 with two runs scored.
Mankato opened the scoring with two runs in the first inning immediately after MoonDogs' starting pitcher Sam Selman (Vanderbilt) struck out the side in the top of the first. The early momentum turned in a hurry. Battle Creek cut the deficit to 2-1 in the 2nd. Then in the third, Mankato committed three of their five errors leading to a five-run inning for Battle Creek and a 6-2 lead. The teams traded runs over the remainder of the game but the MoonDogs never got within less than three runs.
Bombers' starting pitcher Ben Ballantine (Michigan) earned the win after pitching six innings and allowing six hits and five runs. Selman went five innings allowing seven hits, three earned runs and striking out five, but gets the loss. Alex Tukey (Minnesota) pitched the final three innings for the Bombers for the save.
Mankato at Battle Creek, Game Two
Friday, August 19, 7:05 PM eastern
MAN: Matt Mazzoni (JR, RHP, Fresno Pacific, 3-2, 2.94)
BC: Matt Dearden (FR, RHP, Indiana, 5-3, 5.16)
Mankato at Battle Creek, Game Three (if necessary)
Saturday, August 20, 7:05 PM eastern
MAN: Blake Schwartz (JR, RHP, MSU-Mankato, 7-1, 1.57)
BC: Troy Forton (JR, RHP, Western Michigan, 7-4, 2.73)