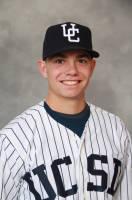 (Wausau, WI) – This week the Wisconsin Woodchucks welcomed University of California–San Diego RHP Ryan Goodbrand to the 2012 roster. Ryan comes to the Woodchucks from a strong baseball program; the same program that produced 2011 NWL All-Star and Ryan's current teammate Danny Susdorf.
Ryan, a junior, is already off to a strong start in the 2012 season. In two starts, Ryan picked up his first win as a UC – San Diego starter, while striking out 8. He enters his junior season after putting together an impressive summer in the Alaska Baseball League, playing for the Anchorage Bucs. In 6 appearances for the Bucs, Ryan compiled a 1.61 ERA with 24 strikeouts and only 6 walks.
Ryan is a 2009 graduate of Tesoro HS in Rancho Santa Margarita, Calif were he earned All-CIF Second Team and All-South Coast League First Team accolades. He helped the Tritons earn a share of the league championship in 2008, going 2-1 with a 1.31 ERA. As a senior, Ryan went 8-0 with a 1.60 ERA.