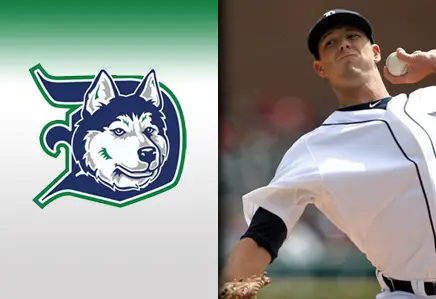 (DETROIT, MI) Former Duluth Huskies left-handed pitcher Drew Smyly broke into the big leagues Wednesday by tossing four good innings as the starting pitcher in the Detroit Tigers 7-2 victory over the Tampa Bay Rays.
Early trouble elevated Smyly's pitch count, which forced him from the game after just four innings. However, how the 22-year old handled that early trouble made his Major League debut a success. After two walks and a single, Smyly found himself in a bases-loaded jam with nobody out in the first inning. Three batters later the 6-foot 3-inch, 190-pound rookie walked off the field unscathed. After a fly out, he struck out the next two batters, including fellow Northwoods League alum Ben Zobrist for his first career strikeout. Smyly tossed 90 pitches in four innings, striking out four, walking three and allowing just one run on four hits.
Tiger teammate and former NWLer Andy Dirks got Smyly off the hook for a possible loss with an RBI triple in the 5th inning that tied the game at one. The Tigers rolled from there on the way to the victory.
Smyly began the season in Triple-A, but was named as the 5th starter in the Tigers rotation a few days before the season began. Due to early season off days he wasn't needed for his first start until today. His next start is slated for Tuesday night at Kansas City.
This is only his second season of professional baseball. Smyly, a native of Maumelle, Arkansas, was 11-7 with a 2.26 ERA in 23 appearances between Single-A and Double-A ball last year. He was a second round draft pick of the Tigers in June of 2010 out of the University of Arkansas.
Although he pitched well for Duluth in the summer of 2009, Smyly never earned a victory in the Northwoods League. His summer finished 0-3 with a 3.32 ERA in seven starts. He struck out 44 compared to 10 walks in 40 2/3 innings. He struck out 12 in a game in a 7 2/3 innings no-decision at St. Cloud on July 29, 2009. His Duluth Huskies manager at the time was Terry Collins, the current manager of the New York Mets. Smyly on Wednesday became the first player from the 2009 class of Northwoods Leaguers to appear in the Majors and the 88th NWL alum all time.
The Northwoods League has more teams, plays more games, and draws more fans than any other Summer Collegiate Baseball League in North America. The League has 16 teams in Wisconsin, Minnesota, Iowa, Michigan, and Ontario. Opening night 2012 is Wednesday, May 30th.