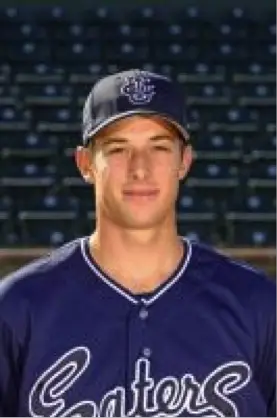 BATTLE CREEK, MI- The Battle Creek Bombers are happy to announce the signing of Dillon Moyer, sophmore infielder of UC Irvine and the son of Colorado Rockies Jamie Moyer and grandson of ESPN Analyst Digger Phelps.
Dillon Moyer: 6'0-180, S/R, INF, UC Irvine (SO.), Brandenton, FL.
Dillon Moyer is currently in his sophmore season with the UC Irvine baseball team. Dillon has appeared in 23 games and has started 18. Dillon has helped the UC Irvine team to a 19-14 record early on by drawing seven walks, scoring four runs and hitting two doubles.
During his freshman season with UC Irvine, Dillon played in 17 games getting four hits, including a triple and one RBI. Prior to joining the UC Irvine baseball team, Dillon was selected by the Minnesota Twins in the 22nd round of the 2010 MLB Amateur Draft.
Dillon Moyer is following in the footsteps of his father, Colorado Rockie left-handed pitcher Jamie Moyer. On April 17th of this year, Moyer, 49 years old, became the oldest pitcher to ever win a major league contest. Moyer took the record from Jack Quinn, who was more than a hundred days younger than when he recorded his last win for the Brooklyn Dodgers in 1932. With the win, Moyer picked up his 268th career win putting him in a tie with Hall of Famer Jim Palmer for 34th on the career list.
The Battle Creek Bombers are members of the prestigious Northwoods League that has more teams, plays more games, and draws more fans than any other summer collegiate baseball league in North America. The team is set to kick off their 6th season in Battle Creek on June 1st with a Fireworks display and 2011 Championship celebration. For tickets call (269) 962-0735 or visit BattleCreekBombers.com.